Is Christian Education Worth the Cost?
Harvey Nowland, Baptist Press
Thursday, April 22, 2004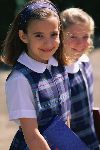 Parents must decide whether children attend a public, private, or Christian school. However, parents also must understand that schools do not have the primary responsibility for the education of their children -- parents do.
There are schools of every stripe that could be labeled as excellent, good, fair, or poor. All public education is not fair or poor, any more than all private or Christian education is good or excellent. Whether in the public or private sector, much depends on the abilities of teachers and other factors, and that could range from adequate to superior.
Everyone has some sort of worldview. But according to a Barna Research study, relatively few people have a biblical worldview -- even among devoutly religious people. Barna defined a biblical worldview as believing in six specific and absolute biblical moral truths:
1. Jesus Christ lived a sinless life;
2. God is the all-powerful and all-knowing Creator of the universe and He stills rules it today;
3. Salvation is a gift from God and cannot be earned;
4. Satan is real;
5. Christians have a responsibility to share their faith in Christ with other people; and
6. The Bible is accurate in all of its teachings.
The survey discovered that only 9 percent of those categorized as born-again Christians hold such a life perspective.
Behavior stems from what we think -- attitudes, beliefs, values and opinions -- and Barna's research indicates that most Christians never integrate core biblical principles into meaningful responses to the challenges and opportunities of life.
One would hope that a Christian education would provide that. Nevertheless, biblical illiterates who lack godly critical thinking skills can come from almost any system. Again, the role of parents is critical in teaching children how to develop and maintain a biblical worldview.
The Cost of Christian Education
How much is too much in terms of annual tuition for a Christian education -- $5,000, $10,000, or more?

It is common practice to provide a sliding scale of tuition for families with more than one child in Christian elementary or high schools. For example, a 20 percent reduction might be given for a second child's tuition and as much as a 40 percent reduction provided for three or more children.
Vouchers, tuition tax credits and scholarships have become common and are being awarded in a growing number of states as a way of allowing more children to attend private schools, rather than government-operated public schools. According to David Salisbury, director of the Center for Educational Freedom at the Cato Institute, critics claim that vouchers or tax credits won't give children from poor families access to private schools because the costs of such schools are high. But figures available from the U.S. Department of Education show that in 2000 the average tuition for private elementary schools nationwide was $3,267.20 per year.
Government figures also indicate that 41 percent of all private elementary and secondary schools -- more than 27,000 nationwide -- charged less than $2,500 per year for tuition, and only about 21 percent of all private schools charged more than $5,000 per year in tuition.
According to the National Center for Educational Statistics (NCES), achievement tests in reading, mathematics and science show higher average scores for private school students. And private schools tend to require more years of core academic subjects for high school graduation than do public schools, with some variation across school types. On average, graduates of private high schools have completed more advanced courses than public school graduates in science, athematics and foreign language.
Have something to say about this article? Leave your comment via Facebook below!
advertise with us
Example: "Gen 1:1" "John 3" "Moses" "trust"
Advanced Search
Listen to Your Favorite Pastors