Is Christian Education Worth the Cost?
Harvey Nowland, Baptist Press
Thursday, April 22, 2004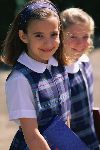 In addition, NCES also showed that students who had attended private school in 8th grade were twice as likely as those who had attended public school to have completed a bachelor's or higher degree by their mid-20s, and far less likely to have had no postsecondary education.
Is a Christian education in elementary, middle or high school worth sacrificing for now, instead of saving for college? Well, Barna's research concerning biblical worldviews seems to indicate that a person's worldview needs early nurturing. So, at the very least, perhaps parents should give Christian education a closer look.
Paying for College Expenses
By the year 2008 the U.S. Department of Education projects costs of a four-year state college education to range from $35,000 to $40,000, and private college costs could double or triple. If these projections are correct, a family should begin to set savings goals as soon as possible, preferably while the prospective student is in preschool rather than high school.
Of course the most economical way to attend college is for a student to live at home, attend a relatively inexpensive community college one or two years, work part time to save money, then transfer to a four-year school.
Proverbs 16:26 says, "A worker's appetite works for him." When children help to earn their way, the education they seek often means a great deal more to them.
Grants and scholarships offer a good type of college money, because they are usually tax free and don't have to be repaid. Both are offered by colleges, for-profit organizations, nonprofit organizations, and government agencies. Federal and state grants usually are restricted to students who can prove that they have a great financial need.
Successfully locating, applying for and receiving grants and scholarships requires time, energy, persistence and patience. Begin your search early to learn about the variety of resources well in advance of any application deadlines.
Begin a scholarship and grant search at the local level such as in school counselors' offices, community organizations (Lions Club, Rotary Club), religious organizations, parents' employers, labor organizations, or civic group organizations (Scouts, YMCA). Next, investigate campus-based scholarships and grants before moving on to state and national offerings.
Student loans should be the very last resort, and every other avenue of financing should be thoroughly explored before a loan is considered. If a loan is needed, borrow only what is absolutely required for education expenses, borrow for a short period of time, pay back what was borrowed as quickly as possible, and sacrifice as needed to get out of debt.
What's Your Answer?
Parents must decide whether a Christian education is worth it. But, everyone needs a model to follow, so carefully lead your children to develop a biblical worldview. It begins at home.
Help your children understand that we don't have to operate under the world's perspective. Teach them that God has ordained each of us to fill a special role in His service -- a unique calling that He has purposefully designed for each of us to serve others, honor Him, impact the world around us and win others to Him.
Our youth need to be aware of this and prayerfully look to Him to discover His will for their lives. Whatever they may become -- doctors, custodians, teachers, carpenters, lawyers or preachers -- they need to know they are following God's will for their lives.
If you truly believe that God wants your child to attend a Christian school, He will supply the funds, even without having to borrow. The great 19th century American revivalist Charles Finney said, "God supplies where He guides. Where He does not supply, He does not guide."
This truth hasn't changed, and it still holds true today. "My God will supply all your needs according to His riches in glory in Christ Jesus" (Philippians 4:19).
Harvey Nowland is a former senior writer for Crown Financial Ministries in Gainesville, Ga., who also has been a Southern Baptist pastor in Texas and Georgia and an International Mission Board missionary in Peru.
Have something to say about this article? Leave your comment via Facebook below!
advertise with us
Example: "Gen 1:1" "John 3" "Moses" "trust"
Advanced Search
Listen to Your Favorite Pastors