Overwhelmed with Tracking Your Budget?
Jill Cooper, LivingOnADime.com
Friday, October 21, 2011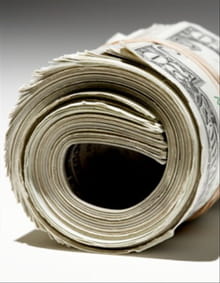 I just finished watching a show on budgeting. I had to chuckle because the woman on the show was going into great detail about making charts, tracking your spending and savings. Even I, who have a good grip on my spending, got overwhelmed with all the things she said a person needed to do to get out of debt.
She advised that those who want to start budgeting use a common budgeting technique: keep track of every penny you spend. You know, the, "Carry a small notebook in your car and write down every penny you spend" method. I know this works for some people -- and please keep using it if it's working for you -- but what if your life looks like mine?
Let me give you my own personal experience with the little notebook. I have a notebook in the car, all nice and handy. I load 5 of my 6 grandkids into the car. On the way to their house, I stop by the store. I have things I need to return and things I need to buy. Two of the grandkids want to buy something with their own money, but one is $.75 short and another $.35 short, so they ask to borrow it from me and promise to pay me back when we get home.
On the way out of the store, we walk past the bubble gum machines and so, being a proper "Nana," I start passing out the quarters for gum. Two of the quarters disappear into a machine that fails to spit out the gum, so I have to find two more quarters and calm the two distraught children.
Finally, we make it out the door and head for the car. I make sure each child is holding someone's hand so they won't get flattened crossing the parking lot. It's a frantic journey to the car as kids drop their new gum, leftover change and a package or two along the way.
Then we all climb into the car and wrestle with car seats, seat belts and, most importantly, who gets to sit where and by whom.
Yes, the car is hot and everybody's tired. Despite this reality, I say, "Just a minute-- I have to write down what I just spent." Suddenly, we are looking for the little notebook... on the floor, in the seat, on the dashboard. At last, we find it, stuck in between the seats under the youngest child's car seat. After tugging and pulling, pushing and shoving, buckling and unbuckling, we have the notebook.
Now where is that pencil? Ah, easy find. It's under the trash can on the floor.
"Let's see, now what did I buy again? Where's the receipt? Do I add the money I got back on my returned item or deduct it from my credit card bill? Do I call the $.75 and $.35 a loan and write it down until it is returned or just write it down?????"
"Yessss. I know you are hot, I know you are hungry; I know you are tired..."
These methods might work well for some people, but my life is complicated enough without adding more. At times, my whole day is like the above story, so I have so many more important ways to spend my time than constantly searching for a notebook or writing on a chart.
What does a person do?
I once worked for a man who had a major problem controlling his spending. Here's what finally helped him: Every Monday morning he put a $20 bill in his wallet. That twenty was all the money he allowed himself to spend for the entire week. It was his lunch money, pop money and, if he saw something at a store he really wanted, he had to buy it with his twenty or do without it.
This made him go home and think about the thing he wanted. Did he really need it? Was it really worth it? Half the time, just having to drive back to the store was enough to deter him from buying it.
He even found himself making a game of it, challenging himself to see how much of the twenty he could still have left at the end of the week. He started saving the extra money to use for something bigger and more special that he wanted. Often, after he had a nice chunk added up, he decided to just apply it to a bill. Watching that bill slowly go down told him he was winning the game.
Have something to say about this article? Leave your comment via Facebook below!
advertise with us
Example: "Gen 1:1" "John 3" "Moses" "trust"
Advanced Search
Listen to Your Favorite Pastors