Overwhelmed with Tracking Your Budget?
Jill Cooper, LivingOnADime.com
Friday, October 21, 2011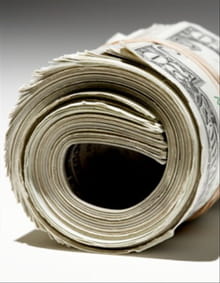 If you have tried other ways unsuccessfully, you might try the twenty dollar bill method. And it doesn't have to be a twenty. Depending on your circumstances and where you live, it could be more or less, but pick an amount and stick to it. It may take a week or two to figure out how much you want to allow yourself but, after that, use a set amount and that amount only for your miscellaneous spending money.
With this system, if you spend it all by Wednesday, too bad! You will have to eke by the rest of the week and, if you aren't already bringing your lunch to work or finding other ways to save, you will find yourself starting to do it just so you can save more of your "twenty."
What I like even better about this idea is, at the end of the week or month, instead of having a huge column of little piddly things to add to your ledger, you only have to make one entry for the twenty per week.
At the end of the show, after presenting so many complex suggestions, the woman was asked, "What do you do if your house payment is more than you can afford and you are deep in debt?" She paused and with a strange blank look on her face replied, "There are only two things you really can do-- earn more or spend less."
That's it in a nut shell. We can make charts and write lists but the bottom line: we simply need to either stop spending or start earning more.
Too often, we focus on learning how to get out of debt with the misconception that, simply by learning, we are doing something about our problem rather than focusing on getting out of debt by actually stopping our spending.
Often, we want to know how to save on the large amount of groceries we buy, never thinking that we could save a lot simply by not buying so much. Or, here's one I love: "My husband lost his job, so how do I save on our vacation?" I don't know how to say this gently but, if you don't have a job or you had a pay cut and don't have enough money, you don't take a vacation, play golf, buy new things to fix the house, put your kids in sports, throw expensive birthday parties, keep buying junk food or convince yourself that you really need to keep your cable and Internet to help you find a job.
There is one way and one way only to get out of debt: spend a lot less than you make. The more desperate your situation, the more drastically you have to reduce your spending. Some of you may have to go from having your hair, nails and toes done once a month to only having your hair done. If things are really tight, maybe you can't pay to have anything done most of the time. You may have to learn to share only one car. You might have to start walking or taking the bus. Whatever you need to do to pay it off, get serious and do it.
Originally posted September 18, 2009
---
Jill Cooper and Tawra Kellam
are frugal living experts and the authors of the Dining On A Dime Cookbook. Dining On A Dime will help you save money on groceries and get out of debt, by cooking quick and simple homemade meals. For free tips & recipes visit
http://www.livingonadime.com/
.
Have something to say about this article? Leave your comment via Facebook below!
advertise with us
Example: "Gen 1:1" "John 3" "Moses" "trust"
Advanced Search
Listen to Your Favorite Pastors