4 Ways to Make the Most of Your Tax Refund
Steve Smith, CEO of Finicity
Monday, April 15, 2013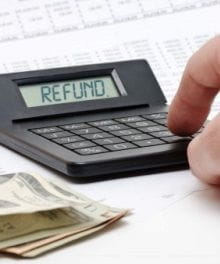 Tax season is upon us once again, and whether you embrace the chance to claim a few extra dollars, or would rather hide under a rock to avoid the process altogether, it's inevitable. But once you make it through the grueling task of the filing process, the grass is typically greener on the other side. In fact last year, the average federal tax refund was $2,700.
According to TurboTax, the best-selling tax software, only 16% of its customers surveyed last year said they used their refunds to splurge on vacations or shopping. Nearly 50% used their refund to pay bills or catch up on paying down debt and 17% used the money from their tax refund to save. While many choose a healthy combination of the three, what's actually the best way to make the most of your tax refund?
Give and It Will Be Given Unto You
Mark 12 demonstrates what Biblical giving should look like through the story of the widow's offering. Giving out of poverty—or at least feeling like you're being stretched a bit—can enable a true trust in God to provide for your needs.
Mark 12:41-44: "Jesus sat down opposite the place where the offerings were put and watched the crowd putting their money into the temple treasury. Many rich people threw in large amounts. But a poor widow came and put in two very small copper coins, worth only a few cents. Calling his disciples to him, Jesus said, "Truly I tell you, this poor widow has put more into the treasury than all the others. They all gave out of their wealth; but she, out of her poverty, put in everything—all she had to live on."
After receiving your tax refund in the mail, it's tempting to be concerned about future bills, but God will continue to provide and remain faithful in the same way He has throughout the past year. Take a leap of faith and vow to give away some of your tax return, and you will be blessed in return.
Luke 6:38: "Give, and it will be given to you. A good measure, pressed down, shaken together and running over, will be poured into your lap. For with the measure you use, it will be measured to you."
Provide and Invest in Your Family
There is not better investment than in the future of your extended and immediate family. In fact, in 1 Timothy 5:8 God calls us to provide for our relatives, and especially for our own household. While "providing" is a relative term, as most people who are receiving tax refunds have their basic needs met, perhaps it's time to use your extra cash to make investments in the future.
Jumpstart an investment in your children's college education with part of your tax refund. Every state offers a "529 plan," an education savings plan operated by a state or educational institution designed to help families set aside funds for future college costs. Some states even offer breaks on next year's taxes if you invest in a 529 plan this year.
Outside of a college education, what other ways can you invest in your family? Little gestures can go a long way in letting your family know you love and care about them. A tax refund may provide the means you need to take your husband or wife out on a date, take a small family vacation or spend a weekend road-tripping to see extended family living a few hours away. While these might seem like small gestures now, time well spent with family means you are investing in your family's future.
Have something to say about this article? Leave your comment via Facebook below!
advertise with us
Example: "Gen 1:1" "John 3" "Moses" "trust"
Advanced Search
Listen to Your Favorite Pastors