4 Ways to Make the Most of Your Tax Refund
Steve Smith, CEO of Finicity
Monday, April 15, 2013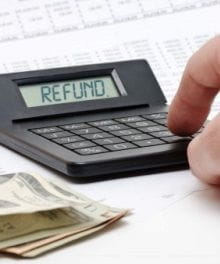 Pay off Debt
Using your tax refund to pay of debt can help you save large amounts of money, of course depending on the amount you currently owe. The interest on some house and car loans might seem minimal now, but paying your loans off early can save you hundreds—or even thousands—of dollars in interest the bank would have collected. And more aggressive debt, such as unpaid credit card bills, should be paid immediately to avoid paying high interest fees. According to CreditCards.com, the average interest rate on credit cards so far in 2013 is nearly 15%, a rate that has the potential to eat away future dollars and destroy your credit rate if you are unable to pay your bills on time. Consider using your tax refund to jumpstart paying credit card debt, or even house and car loans.
Save or Invest Strategically
June 2011 research with Financial Advisors, conducted by Harris Interactive on behalf of the Principal Financial Group, revealed that "individuals need to save approximately 15 percent of their pay, including employer contributions (if applicable), to have enough income during retirement." But don't feel limited to a basic bank account when looking ahead towards retirement. While every day life may leave you feeling the need to stash money in an easily accessible place for emergencies, vacations, house renovations and rainy day fun, your money will actually grow more if it "lives" somewhere else. Considering buying old-fashioned saving bonds or investing in a traditional IRA or Roth IRA. The American Tax and Financial Center reveled that only 1% of TurboTax customers in 2012 planned to use their refunds to fund an Individual Retirement Account or Roth IRA, although these funds are an easy way to grow your retirement portfolio and strategically invest in your future.
Making the most of your refund happens when you plan ahead, and decide where you see the greatest need for your money—and this might vary from year to year. Perhaps it's simplly not feasible to give away part of your tax refund this year, but with proper planning in 2013, you can make giving a part of your tax refund spending in 2014. But in all cases we're called not to worry, and to trust in God to be our ultimate provider.
Matthew 6:31-34: "So do not worry, saying, 'What shall we eat?' or 'What shall we drink?' or 'What shall we wear?' For the pagans run after all these things, and your heavenly Father knows that you need them. But seek first his kingdom and his righteousness, and all these things will be given to you as well. Therefore do not worry about tomorrow, for tomorrow will worry about itself. Each day has enough trouble of its own."
Steve Smith is the Chief Executive Officer of Mvelopes and Money4Life Coaching, as well as, the Author of Money for Life: Successful Money Management and Financial Fitness in Just 12 Weeks! and the Money for Life Success Planner: A 12-Week Companion to Achieve Financial Fitness. He has strong strategic and tactical business skills and combines them with a passion to develop products and services that make a positive difference in people's lives.
Publication date: April 15, 2013
Have something to say about this article? Leave your comment via Facebook below!
advertise with us
Example: "Gen 1:1" "John 3" "Moses" "trust"
Advanced Search
Listen to Your Favorite Pastors