Pursue Wealth to Help Build God's Kingdom
Whitney Hopler, Contributing Writer
Wednesday, January 07, 2004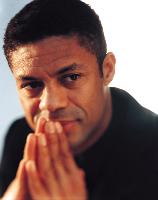 Wealth, in itself, isn't sinful.  In fact, pursuing wealth isn't just okay – it's actually a Christian duty.  That's because wealth that is gained and used properly is a powerful tool to advance God's kingdom on earth.  While God won't answer "name it and claim it" prayers focused on acquiring wealth for selfish purposes, He will bless those who seek wealth to help support His kingdom work.  The more money you have, the more you can help others and spread God's message of love and redemption.
Here are some ways you can pursue wealth to help build God's kingdom:
* Tithe.  Remember that God has promised to bless those who give obediently, generously, and cheerfully.  Give one-tenth of your income to support the work of your local church.
* Be a good steward of what you already have.  Know that God will only trust you with more money if you can show Him that you're wisely managing the amount you already have.
* Proclaim God's promises.  Speak promises from Scripture aloud and believe that God will bless you according to His will.  Then eagerly expect Him to move to fulfill those promises as you wait.  Understand that He is a loving Father who loves to give good gifts to His children.
* Work diligently.  Never expect something for nothing.  Avoid "get rich quick" scams, gambling, and other avenues to "easy money."  Realize that God will bless your honest, hard work with fair wages because He has designed it that way.
* Write down your financial goals.  Know that writing them down will make them more attainable.  First, list long-term goals.  Then, break those goals down into smaller tasks you hope to complete to accomplish your long-term goals.
* Create a budget.   Determine your net income, list your expenditures, and live within your budget.  This means that you should pay your taxes and tithes, save and invest at least 10 percent of what you make, then live on the rest of your income.
* Remember that the key to wealth is not what you make, but what you save and invest.  Tap into the power of compound interest by focusing on saving and investing to make your money grow.
* Determine your risk tolerances and investment objectives.  Think and pray about these carefully.  Then keep them in mind as you choose investment vehicles.
* Open a brokerage account.  Allocate a minimum of $500 to get started in a good mutual fund. 
* Diversify your assets.  Spread your money among mutual funds or carefully selected stocks.  Invest with growth as your goal.  Don't own more than eight equity mutual funds, or more than three of any one sector of funds.  Remember that your stock portfolio should contain no more than 15 stocks.
Have something to say about this article? Leave your comment via Facebook below!
advertise with us
Example: "Gen 1:1" "John 3" "Moses" "trust"
Advanced Search
Listen to Your Favorite Pastors