Academic Competitions: My Learning Adventure and Yours
Katie Roberts, Home School Enrichment Magazine
Wednesday, May 17, 2006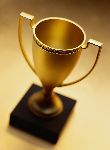 Katie, telephone!" my mom called. I ran downstairs to the office, grateful that I had been temporarily pulled away from my geometry (who really cares about the Parallel Postulate, anyway?), and picked up the phone.
"Hello?" I said.
"Hi," said the voice on the other end. "This is Heather from the Society of Professional Journalists. I'm calling to let you know that you've won third place in the SPJ high school essay contest!"
"Wow!" I was speechless.
"We'll be sending you your $300 scholarship check. It should arrive in a week or two. Do you have any questions?"
I have two goals in writing this article: to share my experiences with academic competitions, and to encourage more homeschoolers to get involved!
I love competition, in all of its forms. Sports, board games—you name it. For years, my main competitive outlet was softball. I started playing at the age of six, and played until I was 13. I loved every minute of it. However, I was not exactly a standout player. I played a variety of positions—mostly pitcher, second base, and center field—and excelled at none of them. I was a mediocre hitter. My last season, I got exactly one hit: a single in the last game of the season that barely made it out of the infield. That was what finally forced me to call it quits—I was simply not a good enough player to keep up with my league-mates.
After I stopped playing softball, I looked for other ways to compete. It was obvious that I was not going to excel in sports. But what else was there?
At age ten, I entered—and won—the local homeschoolers' spelling bee. I still remember several things from that competition: how I thought it was so funny that "fly," such an easy word, was on the fourth grade list. Boy, I remember thinking, my little sister could spell that word! I remember how long it took me to learn to spell "onomatopoeia" and "pseudonym." I also remember my first taste of defeat in the academic arena: losing in the regional bee—against the champions from all of the area schools—when I failed to capitalize "French." Ouch.
That defeat did not quench my thirst for competition. A year later, I entered the National Geographic Bee. Although I took third place among Southwest Missouri homeschoolers, that wasn't good enough to go on to the next level. And it wasn't long before I was thirsting for competition again.
In late 2003, I heard about the Archaeology Challenge contest, which is open to students in the state of Missouri. Now, that may seem like an odd competition, but I am quite interested in archaeology. The competition has three categories: paper, exhibit, and presentation. I decided to enter a paper. I worked very hard on it for several weeks. Mom and I went over it until I never wanted to see red ink again. Finally, we sent it off. (Note: besides journal entries and book reports, that paper was the only creative writing I had ever done. I was 12.)
On the day of the regional competition, Dad drove me to the contest site. To our dismay, we found that I was the only entrant in the entire Southwest Missouri region, and we later learned that I had submitted the only paper entry in the whole state! I was disappointed about the lack of competition at the Archaeology Challenge, but I don't give up easily. I decided to check into another competition: National History Day.
National History Day is similar to the Archaeology Challenge in many ways. There are two divisions—middle school and high school. There are several different categories: exhibit, documentary, paper and performance. I again chose to enter a paper. I decided to write about the Navajo Code Talkers, who provided much of the communications for the Allies in the Pacific Theater during World War II. Although a dozen other entrants also chose the "Code Talkers" topic, I won first place in the high school papers division! I was elated.
Have something to say about this article? Leave your comment via Facebook below!
advertise with us
Example: "Gen 1:1" "John 3" "Moses" "trust"
Advanced Search
Listen to Your Favorite Pastors