10 Tips for Making the Most of Your Homeschool Semester
Anita Mellott, From the Mango Tree
Friday, March 11, 2011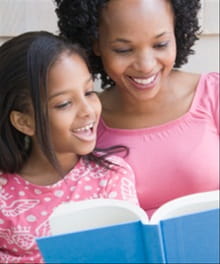 "I'm so excited about starting school at the beginning of our school year. In fact, I can't wait to dive into our curricula," commented a homeschooling friend. Then she shrugged. "But it's so hard to get motivated in the second semester." She slumped in her chair at a recent homeschooling encouragement meeting.
"Perhaps it's the mid-semester hump," offered another mom. Other moms shared similar feelings. Their comments reminded me of a question that had been flitting through my mind since we started our second homeschool semester: "How can I maximize this semester?" Though I had looked for guidance in magazines and on-line, I came away with the feeling that we get a lot of information and advice at the beginning of the school year, and not much as we hit the mid-year hump.
So I decided to draw on what worked and hadn't worked over my eight years of homeschooling to help get the most out of a new semester.
1. Know our vision. At the beginning of each school year, my husband and I usually pray through questions like: Why do we homeschool? What do we want our homeschool to accomplish?" After the first few weeks of our second semester, I began praying about how to maximize the semester. As the One who led us to homeschool began to write on my heart His goals for our semester, I realized that short-term goals help achieve our overarching homeschool vision. So I began to look at areas that we needed to focus on academically, in biblical education, and character development—and began to break them down into semester-specific goals.
2. Focus. Knowing our overall homeschool vision and having semester-specific goals brings focus. It helps me plan better, and keeps me from expending time, energy, and money on areas that don't line up with our vision and goals.
It's easy to get side-tracked by different activities, co-ops, or even what works for others in their homeschool, but that might not necessarily be what our homeschool needs. For example, this year, we started Classical Conversations and decided to focus our time on the more rigorous academic program, especially since it was my seventh-grader's first time with this course and Latin. It meant that our time for other activities was limited. As we prayerfully prioritized, we decided to drop our homeschool co-op of a few years to give more time for basketball, a Bible study group, and music. The key was finding what God led us to focus on for our family.
3. Give myself a break. As homeschool mom, I can be hard on myself, often second guessing myself. Sometimes I blame myself if my child takes longer to learn something or struggles in a particular area. But this semester, I'm trying to remember that I plant the seeds, God brings the harvest. I'll give homeschooling my best, and trust the Lord to bring the results.
4. Give my kids a break. Homeschooling can be intense since our kids are the only students in the class. Sometimes I expect my daughter to have all the answers. But rather than expecting too much of her, this semester I want to spend more time encouraging and building her up. Learning—whether academic, character development or discipleship-- takes time, patience, and grace.
5. Be flexible. Life as a homeschool mom is busy. Various commitments vie for my attention and my schedules and things to do can enslave me. But life happens. I'm learning to go with the flow--after all one of the benefits of homeschooling is its flexibility!
Mentally realizing that the unexpected can happen and building a cushion of time in my day helps me better prepare for the unexpected. So when a broken bracket on my daughter's braces results in an unexpected trip to the orthodontist, or when I spend an hour scrubbing the kitchen chairs because my toddler found the markers and drew all over them, I'm not so frazzled.
Recently on Encouragement
Have something to say about this article? Leave your comment via Facebook below!
advertise with us
Example: "Gen 1:1" "John 3" "Moses" "trust"
Advanced Search
Listen to Your Favorite Pastors