12 Ways to Love Your Homeschooling Wife
Heather Miller, Home School Enrichment Magazine
Monday, February 14, 2011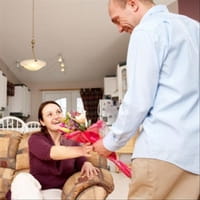 8. Give Mom a Day In
Just as important as a day out—and to some moms, more so—is the occasional day in. Take the kids to Grandma's (and stay with them) or to the park and lunch. Do whatever you need to do, but let Mom have some peace at home. The thought of cleaning house in the morning, then just lazing around all day at home without having to clean again . . . and again . . . and again. . . is like heaven to a mom! Different women will prefer days out over days in and vice versa. Ask your wife which she prefers and help her out!
9. Let Her Know Her Maternal Skills Are Attractive
Tell her how beautiful she looks when she rocks the baby. Let her know how it warms your heart to see her reading to your children. Make sure she knows that motherhood has not taken away from her attractiveness to you—it has increased it! Tell her all the time what a good mom she is and how thankful you are to know that your children are safe at home with her during the day instead of in a public school with strangers.
10. Let Her Know She's Attractive, Period
Don't let the fact that the kids are in the room stop you from holding hands or hugging each other or even—gasp—kissing! Tell her she's attractive, play with her hair, hold her tight. When a woman spends all day at home surrounded by kids, it's easy to forget that she is still a woman, a woman attractive to and desired by her husband. Grab her as she walks by and lay one on her!
11. Be Interested in Her
Do you know what your wife enjoys doing? What books she is reading right now? How she feels about the new class at church? What things she is dreaming of getting done around the house? What things are stressing her out? Get to know what is going on in your wife's thoughts. Let her know that you find her fascinating and that what is important to her is important to you as well. Buy her the expensive book she's had her eye on for months now. Surprise her with the rose bushes she's been dreaming of. Everyone likes to feel understood and appreciated!
12. Thank God for Her Every Day, and Let Her Know It
No gift you can give your wife is as important as your right relationship with God. Strive to be the husband and father God has called you to be. Ask for her help and opinions on things you struggle with. Help her out on the things she needs to work on—lovingly, of course! Let her know that she is truly God's gift to you and how very blessed and thankful you are to have her.
That will make any homeschooling mom's day!
Heather Miller lives in northeastern Oklahoma with her husband, three kids, and five pets. She and her husband have been homeschooling their children since 2004 and loving (almost) every minute of it. In her spare time (what there is of it), Heather also enjoys reading, quilting, gardening, and baking.
This article was originally published in the Jan/Feb 2011 issue of Home School Enrichment Magazine. To learn more, or to request a FREE sample copy, visit www.HomeSchoolEnrichment.com.
Recently on Encouragement
Have something to say about this article? Leave your comment via Facebook below!
advertise with us
Example: "Gen 1:1" "John 3" "Moses" "trust"
Advanced Search
Listen to Your Favorite Pastors