A Cornucopia of Classical Homeschoolers!
Hal and Melanie Young, The Old Schoolhouse Magazine
Monday, May 23, 2011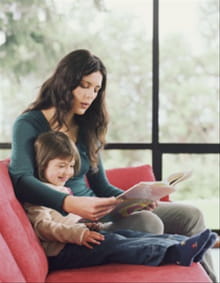 The connection between the three stages of learning (the trivium) and the normal divisions of elementary, middle school, and high school seemed to be exactly right for what we felt the Lord was calling us to in homeschooling. We believe the way that classical education was organized helped make the learning process much easier. Because we would start in the beginning, with Creation, and continue chronologically through the subjects (including art, history, music, and science), they would meld together to create a beautiful picture and help our children retain more.
We've found that the Great Books have challenged and influenced our children much more than the teaching method itself. Some families, like ours, seldom or never use outside classes, but others find them helpful to deepen their children's exposure to "the Great Conversation" of Western thought. Connie Hernandez says her 15-year-old son has enjoyed them.
In sixth grade, my son Andrew took Latin online through Memoria Press. It was a challenge, but it was very good for him. He learned a lot and it stretched him to try harder. He was very determined to learn.
In 8th and 9th grades, he has been taking the Omnibus course online through Veritas Press. This includes theology, literature, and history. It uses the great classics in the curriculum. He has been asked to read some very deep works, such as Eusebius'sChurch Historyand the works of Herodotus and Homer. This has really stretched him beyond measure. He loves his teacher and loves doing debates online and thinking outside the box. He loves to analyze and research topics more deeply. It has been great for him.
Theories are good, but sooner or later we have to adapt our ideals to the reality of life. How does classical education work in a big, busy family? Carmen Revels has seven children from 16 to 21 months of age, and she also lives on a mini-farm full of animals.
After reading a popular classical education book and perusing the suggested schedules for children the ages of ours, reality quickly butted heads with the ideal education I saw described in those pages. I knew that to try and incorporate even half of the recommended studies amidst newborns (babies and animals), adventurous toddlers, outside activities, church functions, and never-ending housework would be a stretch. So we focused on reading, math, Bible, and some writing in the early years, a kind of a basic approach to classical education. Reading good books and primary sources is foundational to a classical education, and one book that we have always relied on as a primary source is the Bible.
Our homeschool history club has afforded many opportunities to use primary sources. While working on essays and projects for competition, our kids have interviewed WWII veterans, read letters written during the Civil War, and looked at documents in the archives of the USS North Carolina. There is much value in learning from someone who actually made the history.
We gleaned what could work for our family and are endeavoring to give our kids a quality education, always striving to remember that all is for naught if God is not in it.
Renee Aleshire Brown, on the other hand, has only one son, but she is still learning that classical education gives students what they need to learn on their own.
In Harvey and Laurie Bluedorn's book Teaching the Trivium, I liked the idea of providing the "tools necessary with which to learn on their own," because I was already doing that with my son. I found the stages to be similar to my own philosophy of learning and my family's spiritual ideals. I felt the three stages of the classical education approach were aligned with scriptural teachings, specifically, Proverbs 1:1–7; Proverbs 4:1–9, and Daniel 2:20–22; therefore, this approach seemed the natural choice for me.
Recently on Encouragement
Have something to say about this article? Leave your comment via Facebook below!
advertise with us
Example: "Gen 1:1" "John 3" "Moses" "trust"
Advanced Search
Listen to Your Favorite Pastors