Advice for Homeschool Dads
Wayne S. Walker
Monday, August 13, 2012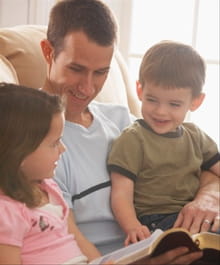 Editor's Note: This article originally appeared in the Fall 2011 issue of The Old Schoolhouse® Magazine, the trade magazine for homeschool families. Read the magazine free at www.TOSMagazine.com or read it on the go and download the free apps at www.TOSApps.com to read the magazine on your mobile devices.
I am a homeschool dad. In fact, I have several T-shirts that proudly proclaim that fact. My wife and I have two sons, currently aged 20 and 15, who have always been homeschooled. The older one has graduated from homeschool. I am also a minister, and because I can set my schedule with a fair degree of flexibility, I have usually taken our two sons to the office with me each morning to do the majority of their formal studying and academic work. Then, after going home for lunch, they finished up and did other things at the house in the afternoon. We started doing that when the older son began his formal studies for reasons that were almost a necessity then, and we continued to do it because we liked it.
Not every homeschooling father can be as actively and personally involved in his children's education as I have been privileged to be, but I do believe that every homeschool dad needs to be as actively and personally involved in his children's education as he can be. The purpose of this article is not to tell you what you have to do to be a good homeschooling father, because every family is different. However, I do want to offer some advice for homeschool dads that I hope you will find helpful.
Homeschooling fathers should be leaders in their homes, including their children's education. Of course, leadership is not the same as dictatorship. For example, one way a homeschool dad can be more involved in his children's education is in the area of helping to choose curriculum. It may be that Mom feels perfectly competent to choose curriculum and that you are quite willing to let her do so. That is fine. However, sometimes curriculum choices can be a bit daunting and stressful for moms. Since Mom will likely be doing most of the teaching in the majority of instances, it would probably not be a good idea for Dad to walk in with a catalogue; drop it in front of Mom; say, "Here is the curriculum that you will be using"; and then walk out! However, it might be good for Mom and Dad to sit down, look over the curriculum choices, and select what they, together, feel is the best choice. If Mom is a little unsure about one program or the other, Dad can make suggestions and strive gently to lead in the direction that he feels is best.
A homeschooling father should also offer support to his wife in her role as a teacher. Since Mom will likely be doing the majority of the instruction, Dad needs to do whatever he can to help prevent the problem of burnout. One way to support Mom's efforts is for Dad to do what he can around the house. If Mom is going to spend a great deal of time teaching the children, she will not have as much time to clean, cook, and do other household chores as she would if she were sending the children off to school and had the day to herself. Don't expect to come home every day to find an immaculate house, dinner ready on the table, and an affectionate little woman. I know that you are probably tired when you get home from work, but think how tired Mom is from doing both housework and homeschooling. It would not kill us to throw in a load of laundry every now and then!
Another way that a husband can support his wife in their homeschooling is to be as involved as possible in the instruction. Maybe Mom does not feel competent in mathematics, science, or whatever, and you do. Let Mom work with the kids on the subjects that are better for her, and you can help with whatever she cannot do when you get home, which will give you an opportunity to be more directly and personally involved with your children anyway. You could also use your day off or a weekend to take the kids on a "field trip" of some sort to give Mom some time alone to regroup and renew her strength.
Recently on Encouragement
Have something to say about this article? Leave your comment via Facebook below!
advertise with us
Example: "Gen 1:1" "John 3" "Moses" "trust"
Advanced Search
Listen to Your Favorite Pastors