An Education in Relationship
Heather Berryman
Friday, July 06, 2012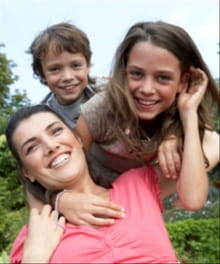 Throughout my junior year of college, jealous thoughts prompted impossible, ridiculous notions to homeschool my children after graduation. These thoughts tore at my heart, and I stepped up prayers for Christian school tuition.
Miraculously, at the beginning of my senior year, my children received immense private grants from a Christian school and help from my parents. My many years of prayer for Christian education and desires for closer relationship had finally been answered! We were set!
Each day, we commuted forty-five minutes to school, radio off, talking, former fears relieved. It was wonderful. Of course, we knew that this could not continue the next year unless $13,000 dropped from heaven . . . again. By the end of that school year, we had discovered that Christian school was not perfect and that I hadn't even known much about it. Still, we prayed and waited daily and throughout summer for the check to arrive for the following year's tuition, fully believing in God's provision and His ability to kick my destiny simultaneously into gear. I reminded myself and my kids that if God wanted a Christian education for them and a close relationship for us, and I knew He did, then He would provide the money.
I graduated that August, my schoolwork ending on 08/08/08 (the number of new beginnings)—a sign! But despite this, I heard nothing from God and feared that because of my busyness or spiritual blindness I had somehow missed the moneymaking opportunity, the scholarship notification, the check, the message to pick up the check (as we had changed addresses six times in the previous three years) . . . or I had simply missed God.
The ensuing bewilderment became especially acute when the national economy tanked, and no jobs were available, just in time for my entry into the real world, as I left my work-study job behind. I knew that my children would have to be schooled somewhere, Godly or not, and I realized that my only responsible choice now was to homeschool for a few months and call it a "trial" semester. The kids were overjoyed, but I feared that they would beg for public school after one week with me. I should have taken a clue, though, from the fact that my son cheered when I placed home-cooked tuna casserole in front of him but groaned when I asked, "Subway or McDonald's tonight?"
In September, we shocked and alarmed family and friends when we dived into our semester of seventh and eighth grades at home, nothing but leftover school supplies in hand. That first day, I looked up from my perfectly formatted, timed, and outlined lesson plan, not really knowing what to do, and my eyes landed on the ragtag books of my bookshelves. I had moved a dozen times with an ugly, burdensome, twenty-five-plus-year-old collection of library freebies—classic novels, used plays, poetry anthologies, biographies, disintegrating dictionaries and thesauruses, old and recent college textbooks, and many nonfiction books, mostly about the subjects of film, art, and home improvement. This became my instructional inspiration as well as our school library! No longer were these books merely the quirky baggage of a bibliophile with no time to read. That ragged collection of books was now evidence that God had sown into relationship with His own future—the children who were to come!
My children thrived. Very soon, I realized that this was heaven to me too. Despite numerous spasmodic changes, and lots of togetherness, months went by with few arguments—and my kids never asked to go back to school! We continued to pray for provision. It came, and we continued that spring and then through the entire next year, praying, learning, growing ever closer, and being blessed with many more materials, teaching tools, math and language programs, as well as important new goals along the way.
Recently on Encouragement
Have something to say about this article? Leave your comment via Facebook below!
advertise with us
Example: "Gen 1:1" "John 3" "Moses" "trust"
Advanced Search
Listen to Your Favorite Pastors