Beating the Mid-Year Slump
Melanie Hexter, Home School Enrichment
Monday, January 23, 2012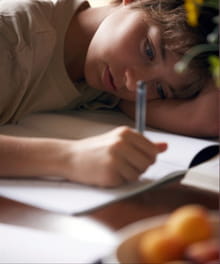 I set a goal for myself last summer: to ride a 14-mile bike trail near our home by summer's end. Although generally active, thanks to my five children, I'm not usually the athletic type. On top of that, I was recovering from surgery and had been on restricted activity for a couple of weeks. I knew the ride would be a challenge for me both physically and mentally, but I really wanted to do it. After my first ride in June—just three miles—I was huffing and puffing, my thighs were burning, and, to say it politely, my seat was sore. The ride had been tougher than I expected, and I was tempted to give up.
On my next ride a few days later, my then 13-year old daughter agreed to bike with me. We made it five miles, and I was thrilled. Her encouragement helped me enjoy our journey and gave me the boost I needed to keep on pedaling. Yes, I was very sore again (even worse than the first time), but her companionship made me forget my exhaustion. I was a step closer to riding the entire bike path.
Homeschooling is a lot like that. Whether you are new to homeschooling or a veteran of many years, there are guaranteed to be peaks and valleys in the experience. When you hit a hard spot, you may be tempted to despair and perhaps give up.
No season is more likely to discourage a homeschooling mom than the dead of winter. Short days and long nights, gray skies and cold weather, days and sometimes weeks without leaving the house, canceled lessons and co-op meetings, the children's frequent illnesses, the bulk of the toughest academic work, more inside time than outdoor play, the daily routine turning stale—all of these factors and more can contribute to the mid-year slump. To a new homeschooler, a first encounter with seasonal discouragement can seem doubly intimidating.
I'd like to use this time to come alongside you and help you "keep on pedaling." The journey is long and sometimes tough, but if we ride together, we can come out of the blahs, flourishing with our children till the end of the year. Think of me as a fellow traveler who is helping you pedal just a little bit farther.
Struggles Will Come
In my 10 years of homeschooling, only two things have remained the same: regular struggles and God's grace. Satan would like nothing more than to use homeschooling to draw you away from the love of the Father. He will manipulate the doldrums of winter to discourage you and make you prone to get off the path. Just knowing that what you are feeling or experiencing is commonplace among other homeschoolers may be just the thing you need to hear. You are normal! Your struggles are typical! Be encouraged by the "cloud of witnesses" surrounding you during your winter slump.
Seasons Come and Seasons Go
It is important to remember that this is just a season in your life; literally—yes, it's winter—but figuratively as well. God created seasons from the beginning (Genesis 1) and established their rhythms. Apparently this season we call winter, a time of rest and cocooning, so to speak, is necessary for us—or else God in His goodness wouldn't have placed us in His four seasons. Use this season and its abundant time with your children wisely; it won't last forever. Busier, more scheduled and demanding days are just around the corner!
Don't Isolate Yourself
Winter brings colder days, and in some geographic regions, less than perfect driving conditions. This means you may find you and your children are homebound more than you are accustomed to. But that doesn't mean you need to be isolated or live without fellowship. Make a point of inviting another homeschooling family over for a meal, an experiment, a show-and-tell time, or just for a play date. Reach out to others with the love of Christ, getting your eyes off your own desires, and you'll find yourself blessed in return.
Recently on Encouragement
Have something to say about this article? Leave your comment via Facebook below!
advertise with us
Example: "Gen 1:1" "John 3" "Moses" "trust"
Advanced Search
Listen to Your Favorite Pastors