Becoming Best Friends
Diana Waring, Author
Friday, March 29, 2013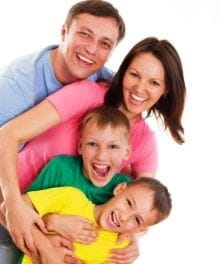 Become an Active and Engaged Listener
One of the most valuable and important relational skills to learn is listening. Make no mistake—becoming a good listener is hard work! If you are not a good listener, improve: read books on listening skills, or ask someone who is a good listener how he does it. The impact will astonish you.
To get you started, consider these steps:
- Give your children (or spouse) time to speak, even if it means waiting patiently during a period of silence as they collect their thoughts.
- Make eye contact when they speak to you.
- Be an active listener, interacting with what the other is saying, rather than jumping in to tell your own story.
- Don't assume you know what they mean, but instead, gently ask questions that indicate you are listening and seeking to understand.
- Be willing to listen to their ideas and insights without trying to control their words or responses.
When I recently asked my 30-year-old son his thoughts about this subject, he replied: "The times you and Dad listened to me—really listened, without prescribing what my words ought to be—were times I felt most befriended. Controlling children's responses doesn't encourage relationship, but rather, performance. And, a performance-based relationship isn't love..."
Learn How to Express Your Love Effectively
Finally, one of the most helpful tools in building healthy friendships within the family is learning the five "love languages" as described by Dr. Gary Chapman.3 Many, many people have benefited from his research on the five different ways we express and receive love: words of affirmation, quality time, receiving gifts, acts of service, and physical touch. Find out what love languages you have, what kinds your spouse and children have, and make sure you are "speaking their language." An excellent source to engage this is www.5lovelanguages.com.
These are some of the paths I have imperfectly walked with my husband and children, concepts they have helped me learn and grow in. I encourage you to also become intentional in becoming best friends with your spouse and children. Take stock of your relationships right now. Is your home a safe place for building friendships? Do you take time to laugh and play? Have you discovered ways to enjoy each one in your family? Do you have regular time for listening and sharing?
Wherever you are on the path, commit your ways to the Lord, and ask Him to help you in befriending those beloved and unique individuals with whom you live. Believe me, the reward far outweighs the cost!
Endnotes:
1. Schaeffer, Edith, What Is a Family?, London, Hodder & Stoughton, 1975.
2. Scripture quoted from the New King James Version of the Bible.
3. Chapman, Gary, The Five Love Languages of Children, Chicago, Northfield Publishing, 1997.
Diana Waring, author of Beyond Survival, Reaping the Harvest, and History Revealed curriculum, discovered years ago that "the key to education is relationship." Beginning in the 80s, Diana homeschooled her children through high school--providing the real-life opportunities to learn how kids learn. Mentored by educators whose focus was to honor Him who created all learners, and with an international background (born in Germany, B.A. in French), Diana has been enthusiastically received by audiences on four continents.
Copyright 2012, used with permission. All rights reserved by author. Originally appeared in the March 2012 issue of The Old Schoolhouse® Magazine, the family education magazine. Read the magazine free at www.TOSMagazine.com or read it on the go and download the free apps at www.TOSApps.com to read the magazine on your mobile devices.
Publication date: March 29, 2013
Recently on Encouragement
Have something to say about this article? Leave your comment via Facebook below!
advertise with us
Example: "Gen 1:1" "John 3" "Moses" "trust"
Advanced Search
Listen to Your Favorite Pastors