Counting Pencils and the Days Until Spring
Molly Green, Econobusters.com
Friday, January 18, 2013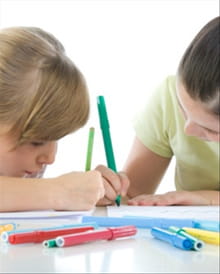 Here in the Northern Hemisphere where I live, winter sneaks in during our delightful but busy holiday celebrations. It follows us into a brand-new year, as we settle back into the normal pre-holiday rhythms and activities of our day-to-day homeschooling and the work of being keepers of our homes. But as we leave the holidays behind, winter lingers, and we soon become weary of the wet and cold weather that keeps us inside for most of the day. We begin to long for the warmer, sunnier days of spring, when we can spend more time outdoors.
What if we take a couple of weeks to rest up a bit and recover from the holiday frenzy, get our children back in the groove of schooling, and then get busy with the deep cleaning and organizing chores we often put off until spring? The winter days will pass more quickly, and when spring weather comes and beckons us outdoors, we'll be ready to head outside with our families.
After all the holiday decorations have been put away and we've restored our pre-holiday routines, let's give ourselves the rest of the winter to clean and organize. I'm going to write it on the calendar—one room or area a week. Or maybe I'll just make a long list, and work my way through it as time and energy allow.
I'll be conducting a comprehensive inventory of our school and office supplies as part of my deep cleaning and organizing routine at the beginning of this new year. Many of these supplies were depleted over the holidays as we worked on decorations, craft projects, and school projects.
It's also the time of year that I begin thinking ahead to our needs for the next school year. Have you ever ordered something—like a map or poster or even curriculum—only to discover later that you already had it stored in the closet or on the top shelf? I have—more often than I care to admit. It's just one more reason to include an inventory in my cleaning and organizing steps. When the time comes to order next year's books and curriculum and supplies, I'll be more prepared.
Some of you might be able to keep all that information in your head without an inventory, but my memory often fails me. A few years ago, I discovered multiple unopened packages of sticky notes—more than enough to last us a lifetime. Thinking that surely we'd need them somewhere down the homeschooling road, I'd been guilty of picking up a package or two of sticky notes, and paperclips, and glue, and other arts and crafts supplies whenever I found them on sale. As a result, I ended up with more sticky notes and paperclips and glue than we will ever be able to use.
My goal was to be frugal, to save money by taking advantage of sales, but I'd actually been wasteful, buying supplies we already had at home. I could have prevented the waste if I had remembered what I had in the desks and closets and storage bins. I needed a more reliable way of keeping track of what supplies I had at home so I would know what sale purchases were really wise for me to consider.
This is what I intend to do. After making a list of all the places I keep or store school, craft, and office supplies that need to be inventoried, I'll choose to clean out just one of them at a time, and then the task won't seem so overwhelming.
The last time I cleaned out the linen/school supply closet (I'm not the only homeschooler whose school supplies have taken over the linen closet am I?), I organized everything into piles as I removed items shelf by shelf. When I put the supplies back in the closet, I recorded the number of each item. When everything was back on the shelves, I taped a copy of the inventory to the inside of the closet door. I repeated this process for all the closets, cabinets, shelves, and supply totes, leaving a copy of the inventory in each location where a significant amount of supplies were stored.
Recently on Encouragement
Have something to say about this article? Leave your comment via Facebook below!
advertise with us
Example: "Gen 1:1" "John 3" "Moses" "trust"
Advanced Search
Listen to Your Favorite Pastors