De-Clutter Your Home in Time for the Holidays!
Malia Russell, homemaking911.com
Friday, November 22, 2013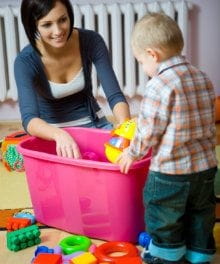 Over lunch the kids discussed the progress so far and were excitedly planning when we would go out for ice cream. Then this question came up: "What if we hit 500 items?" That got the excitement growing again, and after lunch everyone got back in gear. We were all getting pretty tired by then, but we kept saying: "Look for one more thing; keep going! Almost to 400!"
Soon, we were all in the garage and the number approached 500. Anne Mary declared that 500 items should be a family movie night with popcorn! "YES!" everyone shouted!
The excitement built as the 499th item was placed in the box. Then they started talking about donating their winter coats, shoes, umbrellas, and one another's clothes...
Now that we have had several de-cluttering days (usually two large ones per year), I have also learned to appreciate small de-cluttering days. I will often ask each of the children to eliminate five or ten items they are no longer using. Now that they are in the habit of letting go of things, at times they will surprise me by simply showing up with a small box or bag of items from their rooms and tell me they would like to donate those items.
I am ashamed to say we could probably do this over and over again and still have too much stuff, but I was excited to see the family pull together with a common goal and a lot of fun. We know others will be blessed by what we gave away. The children do take care of their things and they are usually in very good shape when they have outgrown them.
If you are planning a de-cluttering day of your own, here are some additional suggestions to help you prepare:
Go through younger children's rooms a day early to cull all the outgrown clothes and unwanted/unneeded toys and books. This prevents a loss of momentum because of a napping baby.
Start making a mental list of problem areas.
Get some empty boxes to hold things to take to charity and some big black garbage bags for things that need to leave. Getting these items ahead of time means you will not have to scramble to find suitable boxes or bags on de-cluttering day.
Decide on rewards you can offer the family for goals met so that they share the excitement.
Invite a friend. Having a friend along helps you get rid of things more easily.
Let the kids and your husband know ahead of time what you are doing so that no one makes any other big plans that are going to cause problems during your de-cluttering day.
Empty the vacuum bag and get your cleaners ready. You will find dust and dirt when sorting and organizing, so be sure you are stocked up on cleaning supplies before you begin.
Think about how your family could be a blessing to others today. Perhaps you could set a goal for each person to give away five things or ten things. Make it a fun challenge and celebrate each act of generosity. Your family will be blessed!
"O Lord, help us to be content, Whatever we possess; Protect us from the foolish lie That 'more' brings happiness."—David Sper
Malia Russell is the blessed wife to Duncan, thankful mother to five children (newborn to 21), and an author, conference speaker and director of www.homemaking911.com and www.wheatnthings.com.
Copyright 2012, used with permission. All rights reserved by author. Originally appeared in the November 2012 issue of The Old Schoolhouse® Magazine, the family education magazine. Read the magazine free at www.TOSMagazine.com or read it on the go and download the free apps at www.TOSApps.com to read the magazine on your mobile devices.
Publication date: November 22, 2013
Recently on Encouragement
Have something to say about this article? Leave your comment via Facebook below!
advertise with us
Example: "Gen 1:1" "John 3" "Moses" "trust"
Advanced Search
Listen to Your Favorite Pastors