Go Forth to China, With Love
Ruth Gulbranson, The Old Schoolhouse Magazine
Monday, July 11, 2011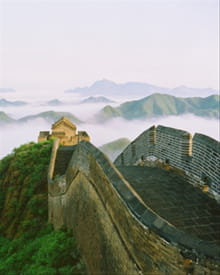 If you were to send someone on an important, dangerous mission, what kind of person would you send? At the turn of the twentieth century, the field of pioneer missions in China posed this question. The times were precarious, yet God faithfully sent men and women into those harvest fields—men and women like Jonathan and Rosalind Goforth.
Shifting Values
In the winter of 1885, the course of Rosalind Bell-Smith's life was set: competition for a gold medal at the Toronto School of Art, graduation, and then travel to England to attend the Kensington School of Art. Rosalind could not imagine how much her life was about to change.
Falling ill with a serious case of inflammatory rheumatism in February, Rosalind was bedridden. In the season of pain and suffering that followed, Rosalind's grip on earthly things loosened. Her goals began to shift as she recalled earlier nudges toward a life of Christian service. Instead of dreaming about her upcoming studies in England, she began to pray for a Godly husband, "that one wholly yielded up to the Lord and His service might be led to me."1
Rosalind did not broadcast her changing hopes, but she watched to see what God would do. In the summer, she became involved in the Toronto Union Mission, where she worked alongside a young man named Jonathan Goforth. He was preparing to go to China as a missionary, and in Jonathan, Rosalind recognized the caliber of Christian manhood she had prayed for in a spouse.
Shortly after the couple became engaged, Rosalind caught a glimpse of what her life as Mrs. Jonathan Goforth would entail. Jonathan asked if she minded forgoing an engagement ring. He wished to invest the funds in literature on missions in China, which he was distributing throughout Canada. Rosalind later referred to this experience as her "first lesson in real values."2
Found: One Yielded to God and His Service
Jonathan Goforth was born on February 10, 1859, near Thorndale, Ontario. The seventh of eleven children, he grew up working diligently on his father's farms. At the age of 18, Jonathan responded to a presentation of the Gospel, and he immediately began to invest in the church. Teaching a Sunday School class, distributing Gospel tracts, and leading family devotions at home helped deepen his faith and develop his gifts.
Early on, Jonathan was drawn to politics, but after reading The Memoirs of Robert Murray M'Cheyne, he decided to devote his life to evangelism. He took up Latin and Greek classes and prepared to enter Knox College in Toronto. At this time, Jonathan was also deeply moved by the presentation of a missionary. Up to that point, Jonathan had thought of working only in Canada, but he recalled, "From that hour I became a foreign missionary."3
In the course of his years at Knox College, Jonathan went from being a naïve farm boy who took the brunt of many jokes to a man respected for his sterling character, earnest faith, and dedication to missions at home and abroad. At the time when Jonathan graduated, the Presbyterian Church of Canada did not have a branch of missions in China. However, Jonathan had won such a place in the hearts of his fellow students that they committed to support him and establish a branch in China.
A Path Set With Sacrifice
The Goforths sailed to China in 1888 with a call to work in the Honan province. When Hudson Taylor, founder of the China Inland Mission, heard of Jonathan's plans to work there, he sent this advice: "Brother, if you would enter that Province, you must go forward on your knees."4 These words became the theme for the work in Honan.
Shortly after settling into a routine of language study, the Goforths' home caught fire and burned before their eyes. Jonathan rescued a few belongings, but they lost many treasured items. This event brought a deeper severing of home-ties for Rosalind, whom Jonathan comforted by saying, "My dear, do not grieve so. After all, they're just things."5
Recently on Encouragement
Have something to say about this article? Leave your comment via Facebook below!
advertise with us
Example: "Gen 1:1" "John 3" "Moses" "trust"
Advanced Search
Listen to Your Favorite Pastors