Homeschooling in the African Bush
Jon and Almi Johnson, The Old Schoolhouse Magazine
Monday, May 30, 2011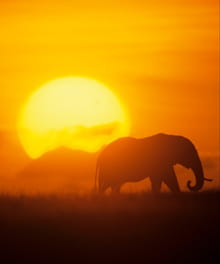 My wife Almi and I have been serving as missionaries in Kenya, East Africa, since 1996. We have three children: Tanya (16), Christy (12), and Josh (9). You might feel that we have been called to give up lots of things. Would it surprise you to know that I find that far from the truth? God has restored abundantly everything that I thought I was giving up. One of our concerns was that our kids would suffer socially and possible scholastically as well, but we have gained the hearts of our children along with having well-rounded kids. Let me try to tell you how this has happened and how homeschooling is continuing to play an increasingly large role in what we do.
When we typically think of missions, we often think of taking the Gospel to the whole world or we think of short-term trips. We are so used to this that we rarely stop to think of what missions are all about. Missions are about going, and then teaching them "to observe all things whatsoever I have commanded you." (Matthew 28:20) It really isn't enough to pass through and give an introduction to the Gospel. For the Gospel to permeate a closed culture, it will take time and commitment to teach the "all things" of Matthew 28. This means long-term commitment, and families are needed to go and stay until the job is done.
The heart of this call is to be a living example of what we are teaching. We are to teach first through a successful Christian lifestyle, as well as through our words. You will notice that this is the same requirement that is given for leadership in the Church everywhere. (See 1 Timothy 3 and Titus 2.) It shouldn't be surprising, then, that our kids can and should play a large role in our ministry. Our families are the place that these character qualities are to be shown forth and hopefully a cause for others to emulate us.
With this in mind, we were thankful to find The Masters Mission. They recommended homeschooling and emphasized the importance of the home during their yearlong training program in North Carolina. Children were not viewed as something extra, but as our first priority and essentials to our testimony and qualifications of leadership.
We have enjoyed working with our children both physically and spiritually. My daughters are now inviting other teen girls over to the house to watch a movie or spend time with them and helping out at VBS and other children's programs, as well as helping on work projects when I desperately need an extra hand. Once again I see that as I followed God's way, I didn't lose out, but rather I have gained infinitely. We still struggle with wanting to do more, especially my wife, but it helps to remind ourselves that our children are our first and longest ministry commitment. If we fail in the home, we fail as missionaries/leaders and as Christians.
We were thrilled and a little intimidated when we bought our first homeschooling materials in 1995. We made our choice, a bargain bin grab from Mission Aid, and started out. After all, how hard could first grade be? We have certainly learned a lot along the way. I won't say that we have all the answers, because I found that I didn't even know all of the questions, but let me tell you what we have learned.
First and foremost we learned that there are no shortcuts in homeschooling. (All of you veterans out there were probably laughing at the mention of our "bargain bin grab" from the beginning.) With something as important as our kids' education, which will require commitment from my wife or me on a daily basis, we found that we needed the support of a full program. My wife does most of the teaching during the mornings. She plans any meetings and her housework for the afternoons, while the kids finish their studies. Schedules are printed and work corrected during the evenings. I help with certain subjects, such as writing, but am normally outside on different work or ministry projects.
Recently on Encouragement
Have something to say about this article? Leave your comment via Facebook below!
advertise with us
Example: "Gen 1:1" "John 3" "Moses" "trust"
Advanced Search
Listen to Your Favorite Pastors