How Can I Prepare My Kids for Standardized Testing?
Zan Tyler, Editor of the Crosswalk.com HomeSchool Channel
Friday, May 03, 2013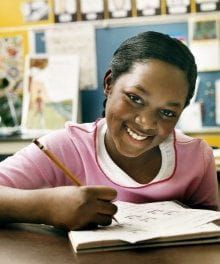 The next year things clicked for John. He once again marched confidently into a public school room to take the annual standardized test. When I asked him how it went, I'll never forget his classic response: "Mom, you can't believe how much easier it is to take a test when you can read what's on it!" His scores were excellent that year, with most of them being in the upper nineties in terms of percentile ranking.
Educators often view standardized testing as the easiest way to objectively measure the academic effectiveness of any educational option, not just homeschooling. As the above story demonstrates, standardized testing has its problems:
1. Standardized testing is limited in what it can assess. It does not measure a child's spiritual understanding, character development, creativity, or social skills.
2. Standardized tests should be used as diagnostic tools, not as yardsticks to determine the worth of the student or the teacher.
3. Standardized test scores do not always measure or reflect effort or work habits. Some children don't test well, even if they have been taught well, have learned well, and have worked hard throughout the course of the year. Conversely, some children who are lazy in school score in the 90th percentile with little effort or concern.
4. An over-emphasis on standardized testing results from teachers who spend too much time teaching to the test.
5. As homeschooling parents, we sometimes fear that others may judge our entire school year and the effectiveness of homeschooling based on one set of test scores.
Standardized testing does have its benefits:
1. Used properly, standardized testing can help you determine where your children excel and where they might need some extra help. You can look at results and make decisions regarding curriculum choices. Are your child's test scores in math weaker than you would like to see? Maybe he has a learning problem or disability. Or maybe you just need to consider changing your math curriculum.
2. Homeschoolers as a group do extremely well on standardized testing. Even though many educators, legislators, and the community around us might not agree with homeschooling, they understand the language of test scores. When they see the composite test scores of homeschoolers, they may not become fans, but they see that homeschooling not only works—but it works exceptionally well.
If your children are taking standardized tests this year, here is some advice from one who has a love-hate relationship with the process:
1. Relax. Refuse to succumb to the notion that your year is a success or failure based on your child's test scores.
2. Encourage your children to relax. Explain the real purpose of standardized testing to them.
3. If your children have never taken a standardized test, purchase preparatory resources that cover the type of material that is tested, the use of time limits, and the process of taking a multiple-choice test.
Don't let testing rob you and your children of your joy. Remember that God is in control. He is the ultimate Superintendent of Education. He will go before your children to prepare the way, make the rough places smooth, and open remarkable doors of opportunity and service for them (Isaiah 45:1-2, 1 Corinthians 16:9).
P.S.: John is now 31, married to a wonderful Christian woman, has two amazing children, and is an attorney.
Zan is the Director of Apologia Press, a division of Apologia Educational Ministries; the author of 7 Tools for Cultivating Your Child's Potential; and an international speaker. Her goal is to empower and encourage parents in the eternally significant task of homeschooling. Zan and Joe homeschooled their three children from kindergarten through high school, for a total of twenty-one years.
Copyright 2012, used with permission. All rights reserved by author. Originally appeared in the March 2012 issue of The Old Schoolhouse® Magazine, the family education magazine, Winter 2010-11. Read the magazine free at www.TOSMagazine.com or read it on the go and download the free apps at www.TOSApps.com to read the magazine on your mobile devices.
Publication date: May 3, 2013
Recently on Encouragement
Have something to say about this article? Leave your comment via Facebook below!
advertise with us
Example: "Gen 1:1" "John 3" "Moses" "trust"
Advanced Search
Listen to Your Favorite Pastors