How to Have a Homeschool Awards Ceremony
Christina Parker Brown, TOS Magazine Contributor
Friday, December 27, 2013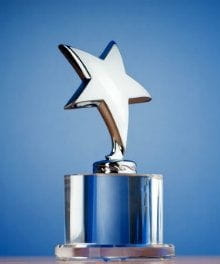 You can have an award ceremony for practically anyone—a homeschool group, a play group, or several moms who want to honor their kids. The size of your group will depend on how you can incorporate these ideas. It is a group effort. As the children get older, they can help with putting on the ceremony.
The aim is to keep it simple but thorough, focusing on the end of the year, accomplishments, achievements, and awards. This is a great way for family members and friends to see what you have been up to during the year, to be involved, to celebrate your children, and to better understand the homeschool experience.
Jobs
Below is a list of various duties that are carried out by parents; some parents assume responsibility for more than one duty, as needed:
Facility Coordinator—secures a facility for the event
Master of Ceremonies (MC)—introduces speakers and makes the evening's events flow smoothly.
Microphone Coordinator—brings and sets up the microphone and speaker(s). We use a karaoke machine and microphone that were acquired at a yard sale.
Program Coordinator—develops the program (coordinates what each child/family will be doing), creates the programs, and sees that the programs are printed.
Door Hosts—It is nice to have students greet all the guests as they come through the door.
Introducer—welcomes everyone, explains the theme (if you have one), and tells the audience what the group has been up to during the year.
Procession Coordinator—supervises children walking down the aisle, with or without flags, in a procession
Food/Refreshment Coordinator—keeps track of all RSVPs and updates the group on how many people are coming, as of a couple of weeks before the ceremony. This helps with setup too, as we know how many chairs to provide.
Decoration Coordinator—We all help with the decorations; keep it simple.
Setup—We all help with setup, but it helps to have someone in charge, and it is good to enlist the help of kids and husbands as well.
Cleanup—Everyone, with the exception of guests, helps with cleanup.
Things to Think About
Location: Think sanctuary, fellowship hall, or even a recreation center of some type. If you can set up the day before, that is always a plus.

Invitations: One mom came up with the idea of having the kids send the invitations. I love this idea, because then it becomes more than just "another thing" we (moms) are asking grandparents and friends to do. Each family sends out their own invitations. You can do this via email or go all out and make professional invites, or the kids can make them.

Achievement Tables: We allot one table (6-ft) per family. Two to a table is best if you can pull it off space-wise and if you have easy access to tables. Otherwise, just bring card tables or use chairs—make it work. See the sidebar for suggestions about what types of items to display, as well as ideas for student performances.

Picture Tables: If your kids don't have many tangible things to display, take pictures of their work/projects and display them.

It is a good idea to include a family picture or display the family's name on each table in order to identify the child and family. Guests are encouraged to look at the tables before and/or after the ceremony.

Theme and Decorations: We have had a Luau theme (leis carry a blessing, represent children, and traditionally express love, reverence, respect, and welcome), focusing on our support systems: family, friends, and fathers, and our gratefulness for them. Simple leis were used, in addition to some tropical lights, an "Aloha" sign, green Hawaiian grass to wrap around the tables, colorful plastic tablecloths, flowers, and candles (on the tables). Another year, we had a "Follow Your Dreams" theme with rainbow-colored crepe paper, Skittles arranged on tables, and a display of kids' pictures designating what they wanted to be when they grow up. (Selection of a theme is totally optional.)

Set Up: It is best when you can set up the night before (it is less stressful to just show up with the food); however, setup took only about thirty minutes. You do not need to do decorations, but it is neat to see the program, introduction, decorations, and theme all mesh. We usually have simple, modest, handmade decorations; flower centerpieces for the food tables; small pictures of kids; etc. Keep it simple, inexpensive, and uncluttered.

Refreshments: We found it worked better to eat before the program. Everyone is hungry and it seems to settle stomachs and open ears if we eat first. Each family brings one or two dishes plus paper products and ice. We like to provide ice water and coffee for drinks. You could just do desserts or not do any refreshments at all.

Program: This can be as simple as a Word document printed on colored paper and folded in half or as professional as you want it to be.
The Program
Recently on Encouragement
Have something to say about this article? Leave your comment via Facebook below!
advertise with us
Example: "Gen 1:1" "John 3" "Moses" "trust"
Advanced Search
Listen to Your Favorite Pastors