I'm a Homeschool Dad
Timothy Palla, Homeschool Enrichment
Monday, February 13, 2012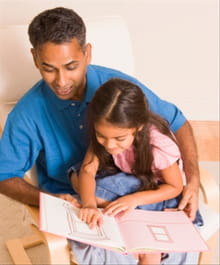 Hello, my name is Tim, and I'm a homeschool dad. (Other homeschool dads, please respond with a unanimous, "Hi, Tim.")
My wife and I have five children and have been involved in homeschooling since 1993. By the grace of God we have seen our two oldest sons graduate and are happy to report that they are well-adjusted, hardworking, intelligent young men. Our three younger children seem to be following suit. During our home education years, we have experienced many ups and downs, joys and disappointments, struggles and triumphs. Our lives have been deeply enriched at every bend in the road, but it didn't always seem like it at the time, especially when that bend spiraled down a steep mountain or took a U-turn back to Square One.
Running the Gamut
When we started out, my wife Jennifer researched and initiated the whole homeschooling endeavor. She answered all of my questions and kept me informed of all her ideas. It seemed as though, during this phase of our journey, I was the student. The most important part of my participation was to provide a listening ear and an open mind. I encouraged her as best as I could. We trusted each other because, at the heart of it all, our goals were identical: we both wanted our children to love God and serve Him. Desiring that their minds be shaped by biblical truth, and knowing that the standard options were not all that plausible, we gave homeschooling a unanimous vote.
From the fall of 1993 through the spring of 2000, Jennifer carried 99% of the burden. She taught our little boys to read and write, follow directions, add, subtract, multiply, divide, spell, study, memorize, and a plethora of other skills which have carried them well into life. While I worked 8:00 a.m. to 5:00 p.m. at my secular job, she worked as teacher, mommy, and manager of a growing household. I had no idea how multitask-proficient she was until the autumn of 2000, when I became fully submerged into the Palla Home Educators Union.
January of that year brought an enormous blessing from God. The church which I had been pastoring for the past nine months voted to take me on full-time. The blessing enlarged when they allowed me to have an office in my home rather than at the church. It was during the summer that my wife and I decided to make some new arrangements in our homeschooling process. Starting September 2000, the two oldest boys would have desks in my study, making me their new supervisor and enabling Jenny to work closer with our two younger boys while caring for our baby girl. It was an unforgettable year for all of us, to say the least.
My reason for sharing this Palla family history is to provide some minor background on my involvement as a homeschool father. You see, I went from occasionally helping with flash cards and reading bedtime stories to becoming a full-fledged principal, music instructor, and school administrator. Both my wife and I made many vital discoveries during this operation: the most important was identifying that I was more effective at educating adults than children.
Resigning from my multiple positions at the end of my first school year was a decision Jenny and I made together. It was a wise one. My ministry at the church was growing, and the demands were increasing—which was a good thing for both of us. She was able to do miracles with our three youngest children during my short-term office, and she willingly resumed the Head Schoolmaster position in the fall of 2001. It's funny now, but even the children looked forward to her return. Even so, I was not off the hook entirely—nor did I want to be.
Homeschool Heartburn
There are probably many fathers who feel left out of their children's lives. They hate being on the outside looking in, but they are not sure when, how, or where to make changes. They already know that God has commanded them to love their children and "nurture and admonish" them in the "things of the Lord." They are unable to forget the Lord's command to be the spiritual leaders of the home (thanks to all those little "As for Me and My House" wall plaques). They are even able to quote from memory a handful of Bible verses that exhort them to take responsibility for their children's education and spiritual development.
Recently on Encouragement
Have something to say about this article? Leave your comment via Facebook below!
advertise with us
Example: "Gen 1:1" "John 3" "Moses" "trust"
Advanced Search
Listen to Your Favorite Pastors