I'm a Homeschool Dad
Timothy Palla, Homeschool Enrichment
Monday, February 13, 2012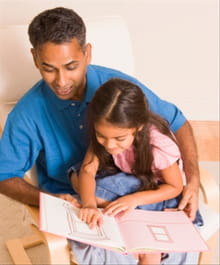 Nevertheless, adding one more scoop to their already overloaded plate seems to induce intense nausea and heartburn. For this reason, many fathers will deliberately choose to be left "outside." Odd as it may seem, it is an attractive alternative to jumping in, becoming overwhelmed, getting frustrated, and feeling like a total failure. A man's ego can be quite fragile.
Women may argue—and yes, I suppose there is some truth to the fact—that people find a way to do "what they really want to do." Dads can find time for hunting, skiing, fishing, boating, four-wheeling, mountain biking, camping, football, baseball, soccer, basketball, and (in my case) horseback riding. So if men really wanted to be successful and godly fathers and bless their wives, they would bite the bullet and be more involved in family leadership and home education. "Take the bull by the horns" . . . right? Not necessarily, so hold off a little before you start pouring that guilt gravy all over our plates. Allow me to speak freely from my heart.
Of course I wanted to be involved. I'd gladly take on the responsibilities of home leadership. It was my desire to bless my wife and children, but taking the bull by the horns does not necessarily make someone a professional matador or a cowboy. In my case, the bull was taking me down, scaring me, trampling me, humiliating me, and ultimately, causing a rift—no, a death—to the relationships and calling that God had given to me. Was it truly God's will to push me into utter failure? I was frustrating everyone, most of all myself! My sincerity and genuine love for my family could not possibly be judged by my level of involvement at this time. Being a part of my children's social, academic, and spiritual development would have to manifest itself gently if I was to grow into a respected, godly leader.
Discovering a Niche
After I relinquished all my involvement as a homeschool father, God began flooding me with His wonderful grace. Believe it or not, He started a completely new work in me by using skills which I already possessed—and felt comfortable teaching. As my children and I spent time riding and showing horses, building fences, working in the yard and garden, hiking the hills and spending lots and lots of time on 4-H projects (a.k.a unit studies), the Lord revealed to me that I was already a qualified home educator. The passion and gift to lead and train were already in me. Leading devotions and training for sports events was a breeze, because I had confidence in those subjects. Even so, as my children's interests grew outside of my areas of expertise, I began to grow with them.
Little by little, my involvement gained new territory. Soon I was helping with grammar and composition, not just flash cards and spelling words. About this time I began doing some freelance writing (for HSE) and decided to take classes at a local college to polish my written and oral communication skills. This naturally led to more active engagement with my children in their essay assignments, literature requirements, and creative writing projects. This dad was no longer a casual observer, on the outside looking in. My self-confidence was now lifting me to a new level of homeschool participation—one which I had never thought possible—and this time I was enjoying it.
A new day had dawned in my life. I had uncovered a talent which had been there all along. Now instead of taking the bull by the horns or avoiding the bull altogether, I could lead him around gently, calmly, confidently. Even the bull seemed to enjoy the new me. It became increasingly easy to make more room on my plate for those high-priority, healthy portions from God—without feeling overwhelmed and under-qualified. No more nausea, heartburn, or even hiccups. Oh, what a relief! I still devoted the main portion of my day to the work of the church ministry, but I no longer shirked or shied away from my responsibility as a father who is commanded to train up his children. The abundance of grace which God gave to me was now flowing freely into the lives of my wife and children.
Recently on Encouragement
Have something to say about this article? Leave your comment via Facebook below!
advertise with us
Example: "Gen 1:1" "John 3" "Moses" "trust"
Advanced Search
Listen to Your Favorite Pastors