John's Watery Grave Into Glory
Brandy Davis, TOS Magazine Contributing Writer
Sunday, April 14, 2013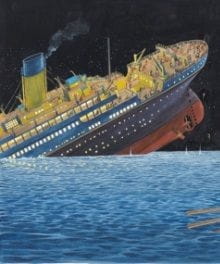 On April 15, 1912, the infamous ship named Titanic struck an iceberg and sank to the floor of the Atlantic Ocean within two and a half hours. This tragic event left its passengers screaming for help and trying to survive in the freezing ocean. To stay afloat, many of the stranded passengers wore white life jackets while clinging to debris from the ship.
One young man was floating on a piece of wood, and an older man swam up to him. "Are you saved?" the older man asked, desperately.
The man said, "No."
"Believe in the Lord Jesus Christ and you shall be saved," the older man cried out to him. Then a wave separated them.
After some time, the older man, struggling as he battled the effects of the frigid temperature, came back to the young man. He said again, "Are you saved?" and the younger man said, "No." Then the older man said, "Believe in the Lord Jesus Christ and you shall be saved" as he slowly sank beneath the water.
He never came back up.
Shortly after that, the younger man was rescued and hauled into a lifeboat, but he was barely alive. As he recovered in the next couple of days, he remembered what the older man had said to him. He wanted to know who this man was who had tried to share Jesus with him, and as the days, weeks, and months went by, he found out who the older man was. His name was John Harper.
Many of the survivors recalled hearing John say, as the ship was sinking, "Women, children, and the unsaved into the lifeboats!" One man said that John had asked him if he was saved and, when he replied "no," John had given his own life jacket to the man, saying, "You need this more than me."
John was traveling to Chicago with his 6-year-old daughter named Nina and his sister-in-law Jessie Leitch. John's wife, Annie, had passed away shortly after Nina was born, and Jessie helped out John by being Nina's nanny. John made sure that they were both safe in lifeboat #11 before he continued to help those around him.
So, who was this John Harper? What made him willing to sacrifice so much that night?
At age 13, John made a decision that would change him and his way of life from that moment on: he accepted the Lord Jesus Christ as his personal Lord and Savior and asked the Lord to forgive him for all of his sins (the bad things he had done). John's love for the Lord kept growing, and at age 17, he decided to step out in faith and spread the Good News of salvation. He started to go out in the streets and tell people about Jesus, no matter how they responded to him.
Soon, Reverend E. A. Carter noticed John and his love for the Lord. Carter took him under his wing, and shortly after, a church with twenty-five members was established. As John started to preach in the church, one person reportedly said that John "preached for all he was worth." As word about John spread, more people came to hear this young man preach. When asked what he based his sermons on, he would say, "On the Word of God, of course."
John would talk to God with great love about everything, because Jesus was John's best friend. John's friend, Hugh Gunn, testified that John would "spend whole nights alone in prayer."
John also reached out to as many people as he could. A friend of his, John Dick, made this statement: "Reclaimed drunkards, gamblers, prize fighters, now enthusiastic workers for God, all praise the Saviour whom they love for the day they came into touch with John Harper. "
Prior to that fateful night aboard the Titanic, on three separate occasions John had nearly drowned. The first accident occurred when he was 2 years old. John fell into a well, and his mother had to revive him. Then, at age 26, on an occasion when John and his brother, George, were at the coast, they decided to take a swim in the water. They didn't realize it, but they were stepping into a strong receding tide that took them out to sea! John didn't know how to swim, but somehow, by the Lord's help, John and George both got back to shore safely.
Recently on Encouragement
Have something to say about this article? Leave your comment via Facebook below!
advertise with us
Example: "Gen 1:1" "John 3" "Moses" "trust"
Advanced Search
Listen to Your Favorite Pastors