Mom + Math + Monopoly = Fun!
Lori Lynn Lydell, The Old Schoolhouse Magazine
Monday, December 31, 2012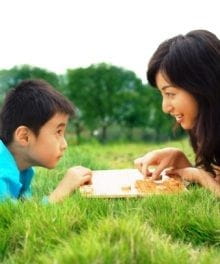 At one time, I was part of an online group of homeschool moms who talked exclusively about games they had made. I got a ton of great ideas from that group. Do an Internet search on homemade games and you may find a similar group.
When we were trying to learn addition, subtraction, or multiplication facts, I always used lots of games. We played addition, subtraction, and multiplication war with a regular deck of cards. We altered the game Uno, allowing the player to add or subtract two cards to make them match the face-up card...which brings me to my next point: change the rules! If changing the way a game is played would help you teach a concept that your son or daughter is struggling to master, then do it! I promise—the game police will not show up at your door asking you to turn in your Monopoly game, including all the Get Out of Jail Free cards.
Do you need to reinforce multiplication? Have your child multiply the amounts on the two dice instead of adding. Need to subtract? Then subtract the amounts on the dice. Need help determining greater than or less than? Roll the dice and make your child move the greater number, or have the child roll the dice and divide the larger by the smaller and tell you the remainder. If he gets it right, he can move the number in the remainder. Are you getting this? You can make a game to fit your needs.
Ah, but what about the upper math concepts? Well, beginning algebra is a piece of cake. Want to learn about graphing coordinates? Play Battleship. Truly, if you think about it, all board games in which you roll dice or draw a card will teach basic algebra. When it's your child's turn, ask him, "Where do you want to land on this turn?" Then say, "Okay, what would you need to roll or draw to get there?" Your child has just solved a problem in which the variable is the number of spaces he needs to get to a given destination! That's basic algebra.
Now, truthfully, I don't know that any of the games in my closet will reinforce any math courses beyond basic algebra, but I'm sure if you're in a pinch, you'll find games for sale that teach or reinforce a variety of higher math concepts. We have a card game that focuses on algebraic equations, so they do exist.
As I come to the end of my ramblings, I must issue a warning: games are addicting! You will end up with more games than you can fit in a closet. You will search out games at thrift stores and yard sales. You will dig through your mother's basement to find the game you played as a child that you know your son or daughter will love. You will seek out games wherever you go. So, go clean out a closet and get started. Declare today a game day!
Copyright 2012, used with permission. All rights reserved by author. Originally appeared in the January 2012 issue of The Old Schoolhouse® Magazine, the trade magazine for homeschool families. Read the magazine free at www.TOSMagazine.com or read it on the go and download the free apps at www.TOSApps.com to read the magazine on your mobile devices.
Lori Lynn Lydell lives with her husband and two sons in rural Central Pennsylvania. When not homeschooling the boys or working for TOS as the Assistant to the Director of Operations, she enjoys knitting and crochet, playing the piano, cooking, and reading. You can find her talking about her adventures at www.lorilynn.org.
Publication: December 31, 2012
Recently on Encouragement
Have something to say about this article? Leave your comment via Facebook below!
advertise with us
Example: "Gen 1:1" "John 3" "Moses" "trust"
Advanced Search
Listen to Your Favorite Pastors