Refuse Worry, Embrace Gratefulness
Susie Larson, Host, "Live the Promise"
Monday, August 27, 2012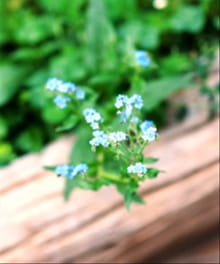 We plant seeds with every word we say. The thing is . . . are we planting weeds or something beautiful?
Not that we're always going to do this right. We will all choose fear over faith on occasion, and each of us will do our share of spouting, pouting, and venting when our lives overheat. We are absolutely going to blow it from time to time. We're going to yell, scream, clench our fists, and stomp our feet. There will be days when our hissy fits make us look like 2-year-olds dressed up in a grown-up's body. It's important to note that Jesus loves us even on those days. He knows how difficult it can be to parent little ones.
Life gets stressful and we are perfectly human. But God has made a way for us, right here, right now. We cannot get away from His love, and every situation is an opportunity to learn more about His faithfulness.
Regardless of the stress of our circumstances, this one thing is still true: worry looks at life without God in mind. Every single time I got tangled up in worry it was because I had lost my perspective. Like those rope traps that circle around your feet and turn you upside down, I had lost my footing, and thus, my frame of reference.
And yet Jesus tells us, "Do not worry." Don't do it. Don't go there. Walk away from worry. Have no part of it. Don't worry about anything. Instead, pray about everything. Tell God what you need and don't forget to thank Him when He answers.
We are the bosses of our perspectives. In my early years of parenting, I really didn't fully understand this truth. Nor did I truly understand the impact of my perspective on my children's lives.
My three boys had just finished breakfast and were ready to go outside to play in the sandbox. Everything was an effort for me, but I decided the fresh air would be good for all of us. We opened the sliding door and walked outside. Instantly one of the boys yelled: "Momma! Look!" Luke's little chubby hand pointed to the dirt pile where we had planted seeds about a month ago. There amidst our makeshift garden stood one single flower. A healthy, beautiful flower.
I was instantly overcome. I plopped to my knees on the grass and put my face in my hands. And I wept. Seasons do change. Through my tears, I said to myself: "It isn't winter any more. I can say for sure that it's summertime. The sun is shining, and though I don't feel all that great, I'm here with my kids, staring at a miracle—proof that it matters if I plant seeds or if I don't."
That flower was the most beautiful thing I'd ever seen. How is it that an ugly little seed could produce such a beautiful work of art? I couldn't get my mind around it all. But I knew that God was speaking to me.
Even when we're faithless, God is still faithful.
One of the greatest gifts you can give to your children is the gift of assurance, modeled by a heart of trust. Not that you pretend everything is always okay when it isn't. But amidst your heartache and struggle, you can kneel down to your children's level, look in their eyes, pull them close, and let them hear you say: "One thing I know. God will not forsake us." Refusing worry is an act of faith that will strengthen you and bless your children.
"Give your entire attention to what God is doing right now, and don't get worked up about what may or may not happen tomorrow. God will help you deal with whatever hard things come up when the time comes" (Matthew 6:34).
Personal Application
1. As soon as worry creeps up, identify it, find its source (is it money, friends, marriage, kids?), and bring it to God. Refuse to entertain anxious thoughts. Apply faith to your specific situation and stand strong (Philippians 4:6).
Recently on Encouragement
Have something to say about this article? Leave your comment via Facebook below!
advertise with us
Example: "Gen 1:1" "John 3" "Moses" "trust"
Advanced Search
Listen to Your Favorite Pastors