Someone to Lean On
Nicole Neeley, Blogger
Friday, October 05, 2012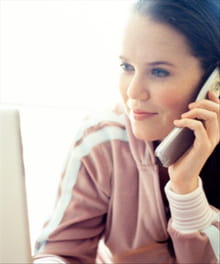 Editor's Note: This article originally appeared in the Fall 2011 issue of The Old Schoolhouse® Magazine, the trade magazine for homeschool families. Read the magazine free at www.TOSMagazine.com or read it on the go and download the free apps at www.TOSApps.com to read the magazine on your mobile devices.
Each year, our local homeschool group holds an annual used book and curriculum sale. I look forward to this day all year long, and I am never disappointed. A large group of ladies bring all sorts of amazing things to look through and purchase. The room is full of tables piled high with books of all kinds: textbooks, reading books, gardening and herb books, books for the young, books for teenagers, educational games, and anything else homeschool-related—a homeschooler's heaven!
This year proved to be no different. I found lots of math manipulatives, which I felt would work very well with the new math program, Math on the Level, which we are using this year. I bought two books, Before Five in a Row and Pond, for my 4-year-old, Abigail, who is now doing preschool. My 10-year-old, Hannah, spotted a paper recycling kit. We have talked about recycling our own paper for years now, so this will be a good science experiment. Colby, who is 9, true to character, found a video game that he felt he had to have and was even willing to pay for it with his own money. Of course, it helped that the video game cost only a dollar! (Later I realized why the seller had marked it for that price: it makes lots of noise! Maybe she just wanted it out of her own house!) I bought a sign language book so that I can stop continually borrowing the same book from the library. And I also came home with a devotional book, Having a Mary Heart in a Martha World, which I wanted to read.
While I was at the book sale visiting with friends, I noticed a new homeschooling mom walk in. Jackie will be starting her first year of homeschooling this year with her teenage kids. I had met Jackie at our co-op group's open house. As I talked with her, I realized that she was absolutely overwhelmed with the sight of all the different items for sale on the tables.
Let me just say that if you are just starting out in homeschooling and have relied only on what the public school offers your children (or even what you remember from your own childhood), you have no idea how much material is out there! You could drown in all the different curricula being sold! In fact, if you need help with choosing a curriculum, there is a book nearly two inches thick with really small print that lists all the different options available to a person. Very overwhelming!
Jackie walked in, and immediately she got a small taste of just how overwhelming choosing curriculum really is. Yet, this was a no-brainer for me: I knew exactly which items I wanted, and more importantly I knew what I didn't want. But as I noticed the stress on her face, I was taken back about five or six years to the time when I first began homeschooling. I completely understood what she was feeling.
When I began homeschooling, my only experience with curricula, like most people, was what I knew from school, and I knew I hated that. I had loathed sitting in a desk for twelve years learning from books that I found to be completely boring and receiving instruction from teachers who didn't necessarily care if I liked it or got anything out of it. I knew that wasn't what I wanted to do, but I just couldn't see any other options.
It's amazing to me how God doesn't always speak the answer that we need, but He does send us to the place where we can find answers. He sent me to my friend, Kayla, a mom who had been homeschooling much longer than I had. I didn't know her well, but I knew I liked her laid-back attitude and approach to school.
Recently on Encouragement
Have something to say about this article? Leave your comment via Facebook below!
advertise with us
Example: "Gen 1:1" "John 3" "Moses" "trust"
Advanced Search
Listen to Your Favorite Pastors