Someone to Lean On
Nicole Neeley, Blogger
Friday, October 05, 2012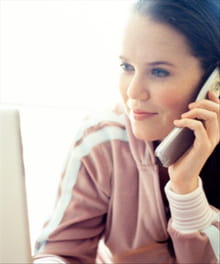 On a day when I had stood all I thought I could stand and I was ready to quit and go enroll my kids in school, God put it in my heart to call her. I told her how overwhelmed I was because I just didn't know what I was doing. I couldn't find textbooks that I liked, and textbooks were all that I knew. I felt like I was about to crack! After patiently listening to my plight, she told me, in her laid-back way, how she teaches in her homeschool.
Kayla's approach is to do unit studies, lapbooks, notebooks, and lots of fun, "life stuff" with her kids. She explained the different methods she used, and she pointed me to a website from which she had gleaned a wealth of information and help: HomeschoolOasis.com.
Homeschool Oasis talks of delight-directed learning, a way of homeschooling by which you teach according to your child's interests, or delights. Instead of following a learning schedule made up by someone else, you use your children's likes and interests to determine what you teach and when. If your daughter loves American Girls dolls and cannot stop talking about them, you could take some time to learn about life in the time period of one her favorite American Girls. Or maybe your son, after spending time with his grandpa, a Vietnam veteran, becomes curious about the war, the weapons used, the uniforms, the country of Vietnam, and anything else you can tell him. You could take a week or two to encourage those interests and teach him accordingly.
As I read what this website had to offer, I knew how I wanted to run my homeschool. Finally, I felt as though I was heading in the right direction. However, things were still very hard and overwhelming at first. I still had no idea where to start. Kayla stood alongside me helping me. She guided me, was never pushy, and any time I had a question or problem, she was right there to get me back on track. God knew exactly what and whom I needed, and He caused our paths to cross at exactly the right time. Without Kayla's help, I doubt I would be homeschooling today.
Our school runs pretty smoothly now, even without a schedule. Our days are filled with delight-directed learning. But every now and then, there's a glitch in my school. Sometimes I just cannot figure out or understand something. So I pick up the phone and call Kayla. She is still always right there, ready to talk and give me some perspective and guidance. She is my mentor. And for that, I am so very thankful.
Many of us have been down this road longer than others. When we see someone struggling, may we never forget what it felt like "way back when" as we began the very overwhelming task of educating our children. May we always be willing to offer a hand to someone who doesn't yet have it all together. Find someone to offer help to, and be there for them. Become a mentor.
If you are new to homeschooling, know that you are not alone. Anyone who has ever stepped into unfamiliar waters feels overwhelmed at some point. Look to other "seasoned" homeschool moms, because they have a wealth of knowledge to offer. Lean on others.
And then, go and do the same for someone else.
Nicole Neeley and her husband, Brient, have four children: Hannah, Colby, Abigail, and Elizabeth. They live in the Deep South, where Nicole homeschools the three oldest children. She enjoys vegetable and herb gardening, making homemade bread, and drinking hot tea while blogging. You can follow Nicole's blog at www.ahighercallingchristianacademy.blogspot.com.
Publication date: October 5, 2012
Recently on Encouragement
Have something to say about this article? Leave your comment via Facebook below!
advertise with us
Example: "Gen 1:1" "John 3" "Moses" "trust"
Advanced Search
Listen to Your Favorite Pastors