Ten Years of Burnout
Deborah Wuehler, Senior Editor of The Old Schoolhouse
Friday, February 15, 2013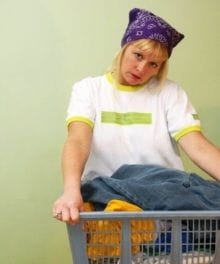 I should be in the middle of teaching history, but I am in the middle of the flu bug with eight kids. The world stops when the flu starts, and I fall even more behind. Ten years ago I would have been anxious about the time "wasted" and the academics neglected. I would have felt burned out with nothing left to give. But ten years of living can, and should, teach us important things.
Since stories help us connect with each other, step back ten years with me and let's see what time has taught me. As you read about my ten years of burnout, I hope you will discover the hidden blessings and even the benefits it can offer.
2001—The Year of the Storm
I had five young children aged 10, 8, 6, 3, and 1. I felt like I was in a great storm and was supposed to try to keep the boat calm in the midst of it. There were waves of teaching, admonishing, correcting, nurturing, clothing, and feeding all those children. Oh, yes, and homeschooling.
Running everywhere, constant activities, days of intensity—it was an energy-draining, all-consuming lifestyle. My relentless, aching thought was: "I can't do this. I need help."
I pleaded with the Lord to help me, and in the midst of my pleas, I found help—because I finally found Him. In order to survive the storms of my life, I had to wake up the Savior (Matthew 8:24-25). The blessing of the storm was that it woke up my need for Him. My desire for Him became stronger than my desire for help. I clung to Him as He calmed my inner turmoil, and I learned that I could trust His mighty power over the storms of my life.
The year of the storm shook up my apathy until I woke up the Lord in my own life's boat.
2002—The Year of Weakness
I was pregnant again. Everyone questioned me—from family to complete strangers. However, God's Word told me clearly that the child in my womb was a gift from God. I felt weak throughout that pregnancy and prayed for mercy. I was short-tempered and uptight and I needed to learn how to be merciful. I had to learn to live one minute at a time in God's rich mercy, so that I had a store to give away.
As I sought God throughout the day, I found His mercy to be following me. I began to have a quiet heart that was always listening for the voice of the Lord in the midst of the noise. I found that my weakness in mercy brought many opportunities for God's strength to shine through. People wondered how I could do it all, and when asked about that, I could easily point to God's mercy and strength for every task. As my true condition—weakness—was realized, I saw clearly that it was only my heavenly Father's power that held me together.
The year of weakness showed me from Whom my power truly comes.
2003—The Year of Hunger
Baby Mercy was born that year. The older children had become independent, bright learners; I began to see the rewards of their early training. They were faithful to do their daily chores and schoolwork, and I took pride in their obedience and good behavior. I began to trust in my own abilities and rested in self-righteousness . . . but I was not growing spiritually. I was still short-tempered and easily frustrated. Why? I reasoned that since I knew my Bible so well, I didn't have to read it. And, because I wasn't feeding myself spiritually, I began to starve and didn't recognize the symptoms of starvation.
Spiritual apathy came as a result of lack of spiritual food. Depression and anxiety also came, a consequence of not consuming enough Biblical calories. Spiritual muscles began to break down, and I was left too weak to resist the enemy. So, I began to force-feed myself until hunger for the Word returned. When I was finally hungry, I was filled and then craved more truth. The Truth truly does set you free from self-righteousness and feeds your soul to health.
Recently on Encouragement
Have something to say about this article? Leave your comment via Facebook below!
advertise with us
Example: "Gen 1:1" "John 3" "Moses" "trust"
Advanced Search
Listen to Your Favorite Pastors