Ten Years of Burnout
Deborah Wuehler, Senior Editor of The Old Schoolhouse
Friday, February 15, 2013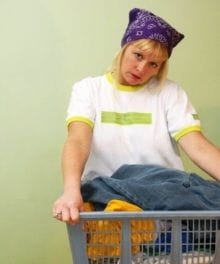 The year of hunger turned into a year of fullness with a knowledge of what truly satisfies the soul.
2004—The Year of Confusion
We were pregnant with our seventh child. Doctors told us the baby had symptoms of trisomy and might not survive. I couldn't keep up with who was doing what; curriculum was overwhelming me. Finding time for everything was a baffling, never-ending battle. Praying for the health of the baby was a constant practice. Staying on schedule was not on the calendar. One of the children's special needs was all-consuming.
I lacked direction. I learned an important lesson: when you lose direction, you pray and go back to the beginning and find it. And...you go back to the basics. The daily basic truths upon which everything else in our family revolved consisted of these goals: love God, love others, and do your schoolwork and chores. Period.
The year of confusion magnified the truth of what was important and pointed me in the right direction.
2005—The Year of Fear
Baby Hope was born by Cesarean section, and she was perfectly healthy. Nonetheless, we had to continually put our "Hope" in God not only through the insecure pregnancy but also through her last-minute Cesarean delivery and through her fall at three months of age, which cracked her skull. That accident opened up a Child Protective Services (CPS) case for us—and opened up intense fear for me. I was forced to put my "Hope" in God.
After much prayer and two days of fear, the CPS case was closed. I had just been through a whole year of fear, but through fear, God showed me how to go the opposite direction of fear and have faith in Him alone. And He proved Himself faithful every time.
The year of fear became a lesson in placing my hope in God alone.
2006—The Year of Suffering
Our special needs child began to have irrational fits of rage. Not only did those fits disrupt the entire day, but I feared for the other children's safety. A relative offered to take this child for a few months. I needed the respite, but my heart broke knowing that my child suffered away from me.
I was brokenhearted, so I secretly got up at 3 a.m. and cried and prayed and worshiped as I sought to be near the throne of God. He drew so near; I felt His presence. I realized a place of fellowship with Christ that I had never known before. Many of us want the "power of His resurrection," but not many are willing to draw near the "fellowship of His sufferings." I met Him there and found His presence to be what held me close and calmed my soul.
The year of suffering brought me to a place of close fellowship with Christ Himself.
2007—The Year of Fire
Something happens when you draw near to God. His light reveals your impurities. I saw that I needed to be refined in many areas. I was questioning God's wisdom for me as I was 44 and pregnant again, and I faced many fiery trials.
His light revealed who I was compared to who I was supposed to be. The light of God's Word held up the standard: be like Christ. It was through the fire of God's holiness that I would be refined to reflect His character. The fiery trials of my life would bring impurities to the surface to be repented of and skimmed off. Rather than choosing defeat at the hand of my failures, I could repent and choose to be a refined vessel that would reflect the beauty and glory of God.
The year of fire cleansed away impurities so that the glory of God could be reflected.
2008—The Year of Heart Pain
I mentally pulled away, feeling as though my husband truly didn't understand—he should know how I felt without me telling him, right? How many years will we struggle? Pain in marriage—it's epidemic. Satan wants to take us all down, especially intact, homeschooling families who represent obedience to Christ. Satan's number-one weapon: our own self-focused expectations. Numbness can set in as Satan whispers, "You need someone to love you and meet your needs." God whispers: "I have given you everything you need for life through my Son. I love you and will take care of you."
Recently on Encouragement
Have something to say about this article? Leave your comment via Facebook below!
advertise with us
Example: "Gen 1:1" "John 3" "Moses" "trust"
Advanced Search
Listen to Your Favorite Pastors