Ten Years of Burnout
Deborah Wuehler, Senior Editor of The Old Schoolhouse
Friday, February 15, 2013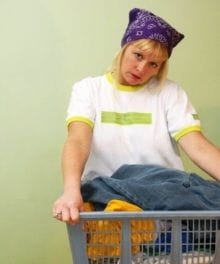 If we are in pain, we must cast our hurt and our cares on the Lord, for He alone truly cares for us. He is in the midst of marriages whose couples die to self and seek to honor God above all else.
The year of heart pain drew me close to the heart of God, where I found love enough to share.
2009—The Year of the Flood
Baby Jacob made eight. I now had an adult son and an infant son and finally saw how short the time in between was. Instead of dreading each day as a burden, I began to treasure each day as a gift. This baby brought a flood of joy, and this year also brought a flood to our home. The flood in our home forced us to remove, replace, and redo much in the way of home repairs.
We endured another flood of grief when Grandpa Mel passed away. This flood of troubles tried to overwhelm me, but seeing each day as a gift from God and knowing the hope of seeing our loved one again kept my head above water.
The year of the flood revealed the hand of God under us in all circumstances as we treasured each day.
2010—The Year of Infirmity
We were all very sick for several months. I was the first to feel close to death. Then, all eight children followed one at a time, and some of them became ill a second time. I was talking to doctors daily. I was fearful about each child's health.
As they all began to recover, our oldest son did not recover but instead became weaker. Doctor visits provided new treatments, but none helped. I took him to the emergency room, where he was admitted, and every specialist came to see him but none could figure out what he had or how to treat it. He could not eat or drink and could barely breathe. His life was fragile.
I was living the awakening reality that each life is truly in God's hands. I stayed between life and death as I prayed over my son. Many friends and family also prayed and brought meals. I realized my need for the Body of Christ. God heard our prayers, and within seven days, we were able to take my son home.
The year of infirmity revealed that every day of health is a gift and that we need the Body of Christ.
2011—The Year of Running Away
I wanted to run away. Depression set in as hormones were shaken—pre-menopausal symptoms. My emotions were all over the place. Everything felt wrong. Everything was offensive. Friends said hurtful things. My husband and my teens said hurtful things. Depression.
The tide of too much to do kept me going day after day, but I wanted to run. I could not run from my responsibilities any more than a loving mother could neglect her children, so I found great solace in running to my closet. I have a 2' x 2' space where I sit, pray, read my Bible, and just cry if I need to. It's a place where I go to get grounded again when I've been blown around. I go there when it's time to be washed by the water of the Word and sit before my Lord in the presence of the Spirit. It's a place where I can think clearly when all seems to muddle my mind. It's a refuge of release and peace as I visit with the Prince of Peace.
The year of running away became the year of running toward God and finding great solace.
Ten years of burnout. Ten years of a redeeming God whose transforming power would burn out and cleanse me of the things that would dim the reflection of His glory.
If you are feeling burnout, welcome to the opportunity for God to cleanse you, renew you, and shine forth His strength and glory through you. Pray with me that the Lord would refine us with His fire, that we would welcome these fiery trials that burn away the dross and make us more like Him.
Is your storm too great for you? Wake up the Lord; He is the Master of the sea! Is this fiery trial too hot for you? Ask Him to burn away anything that hinders as you run the race with perseverance. Instead of experiencing burnout, purpose to be burned out and consumed with Christ. Trust in what is greater than what you can see with your eyes, for He who began the good work in you will complete it.
Deborah Wuehler is the Senior Editor for The Old Schoolhouse Magazine, participating author in The Homeschool Minute™, wife to Richard, and mom to eight gifts from heaven. She loves digging for buried treasure in the Word, reading, writing, homeschooling, and dark chocolate! You may contact her at senioreditor@TheHomeschoolMagazine.com.
Copyright 2012, used with permission. All rights reserved by author. Originally appeared in the February 2012 issue of The Old Schoolhouse® Magazine, the family education magazine. Read the magazine free at www.TOSMagazine.com or read it on the go and download the free TOS apps to read the magazine on your Kindle Fire or Apple or Android devices.
Publication date: February 15, 2013
Recently on Encouragement
Have something to say about this article? Leave your comment via Facebook below!
advertise with us
Example: "Gen 1:1" "John 3" "Moses" "trust"
Advanced Search
Listen to Your Favorite Pastors