The Gift of Everyday Moments
Deborah Wuehler, Senior Editor of The Old Schoolhouse
Friday, December 13, 2013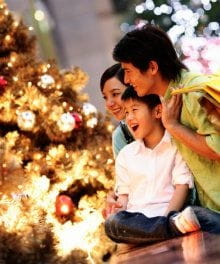 What I love about those annual Christmas letters (when we've taken the time to write them) is that they record the things we did together, what each of the kids was doing or becoming, and the overall blessing of God upon our family—whether in times of grief or times of joy. It's a record of all the big stuff of the past year. But what about all the little everyday things—who records those? I bet there are a few of you who do that, but for the most part, who notices all of the many happenings that make up a day in the life of a homeschool family?
All those everyday things, those mundane tasks, as well as tired nights and mornings, have us wondering if it is worth it—getting up every day to experience the same things over again, to face the same kids, do the same work, clean the same messes, and follow the same busy schedule that barely lets you breathe. Wouldn't it just be easier to stay in bed with the covers over your head some days? I've tried that . . . until that youngest child comes in and snuggles under the covers and his warm breath and little hand are on my face as he asks if I can please get up and help him because he's "super hungry."
Those are precious moments that could easily be looked at in tired frustration, not because we don't love those little ones but because we fear that we are not getting all that we need. We don't like dying daily to our wants and wishes for just a wee bit of rest or free time. We must get up to meet the same little needs every day—everyone's needs except our own, or so it seems.
Does anyone really care, and is anyone even paying attention? I mean, really, if I am going to play the martyr, I want an audience. And on the opposite end of the spectrum of martyr is the famous homeschool Super Mom: "I do everything that needs to be done around here. I have to do all the research, planning, teaching, grading, cooking, cleaning, etc. Isn't anyone watching my amazing Super Mom powers?" When I am playing Super Mom, I want an audience too.
Rather than looking for an audience, whether I am playing martyr or Super Mom, I should be seeking to serve and love the One Who notices everything about me. Only then would I love and serve without expecting anything in return. Then I would be acting like Jesus. He did the opposite of what I expect in my own prideful ways, and He humbled himself, taking on the form of a servant.
Let nothing be done through strife or vainglory; but in lowliness of mind let each esteem other better than themselves. Look not every man on his own things, but every man also on the things of others. Let this mind be in you, which was also in Christ Jesus: Who, being in the form of God, thought it not robbery to be equal with God: But made himself of no reputation, and took upon him the form of a servant, and was made in the likeness of men: And being found in fashion as a man, he humbled himself, and became obedient unto death, even the death of the cross (Philippians 2:3–8).
Vainglory? Sounds exactly like what I am often seeking. Shouldn't someone, anyone, notice all those everyday things that I do? Vainglory. According to this verse, instead of seeking our own glory, we are to be lowly of mind and not expect others to look up to our wonderful ways. Rather, we are to esteem others. We are to go low and raise others up. No self-esteem here—that speaks of "God esteem," which esteems others. It's a different way of thinking, a perspective that stands in contrast to the self-centered philosophies of this present society, which, unfortunately, sometimes dwell in my own house.
My two oldest homeschool graduate sons are now living in another city far away as they finish up their bachelor's degrees. We don't see much of each other because of the distance and their full-time school and work schedules; they are busy young men. Praise God for youth and for ambition that allows them to live these crazy lives!
Recently on Encouragement
Have something to say about this article? Leave your comment via Facebook below!
advertise with us
Example: "Gen 1:1" "John 3" "Moses" "trust"
Advanced Search
Listen to Your Favorite Pastors