The Gospel: Where We Begin, Dwell, and End
Kendra Fletcher
Friday, January 25, 2013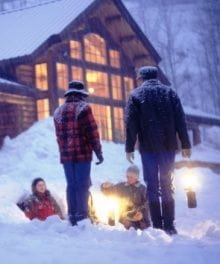 Our little ones need to be told too. They need to begin to see all of God's Word as one beautiful redemption story, and they need to feel the grace of the Gospel poured out over them, saturating their little lives and creeping into every crevice. They need to know that when they produce something beautiful, all glory goes to their Creator. They need to understand that when they fall, there is always the heaving hope of redemption because of what Christ already did for them at Calvary: consequences and training and repentance, for sure. But never those things divorced from the Gospel.
And what does that look like practically? How do we communicate the entire meta-narrative of Scripture to our 3- and 4-year-olds? We can talk in little parables of grace, telling them personal stories of God's redemption in our own lives. We can show them Jesus in Bible stories we commonly tell little ones: God's grace in creation, His redemption of Noah, the hope of the Messiah in Jonah's big blunder. Remember David, that shepherd boy with the stones and the sling? He was a man after God's own heart even when he repeatedly blew it, big time. That's the Truth of the Gospel.
Watch them closely as they grow and see where it is they are striving to place their identity, and then remind them Whose they are and what He's done for them. Assure them that although they sin and will continue to do so, grace abounds, and Jesus is the only one Who can forgive that sin. Show them by your own joyful, thankful walk that it always pays off in freedom and grace to follow the Lord closely, basking in His presence and soaking up His Word. Remind them that only Jesus can give them true value, purpose, worth, and security.
You might be beginning this homeschooling journey with only little people underfoot, or you may have more years under your belt than I do. Either way, there will never be a better way to begin your school days, weeks, or years than with the Gospel of Jesus Christ. In Him we live and breathe and have our being. It's an identity worth living for!
Resources for beginning your year saturated in the grace of the Gospel:
The Jesus Storybook Bible, Sally Lloyd-Jones
Discovering Jesus in Genesis, Susan Hunt
Discovering Jesus in Exodus, Susan Hunt
Long Story Short, Marty Machowski
Grace-Based Parenting, Tim Kimmel
Give Them Grace, Elyse Fitzpatrick
Kendra Fletcher is the homeschooling mother of eight, aged 18 down to 3. She has never known what it means to homeschool without the presence of preschoolers and loves to encourage other moms who are beginning their homeschool journeys with little ones underfoot. Her website and blog can be found at www.preschoolersandpeace.com.
Copyright 2012, used with permission. All rights reserved by author. Originally appeared in the January 2012 issue of The Old Schoolhouse® Magazine, the trade magazine for homeschool families. Read the magazine free at www.TOSMagazine.com or read it on the go and download the free apps at www.TOSApps.com to read the magazine on your mobile devices.
Publication date: January 28, 2013
Recently on Encouragement
Have something to say about this article? Leave your comment via Facebook below!
advertise with us
Example: "Gen 1:1" "John 3" "Moses" "trust"
Advanced Search
Listen to Your Favorite Pastors