The Impatient Homeschooler
Gena Suarez, The Old Schoolhouse Magazine
Monday, November 14, 2011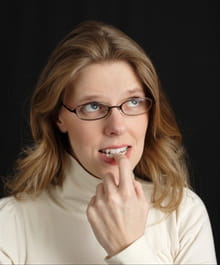 I snap.
Sometimes I'm not very nice. I snap at Paul. I scold the kids a little too loudly or rush to make them mind. Don't get me wrong; we have our light, sweet times too. I love my family dearly. But I'm not what you'd call the perfect mommy/wife/homeschooler, far from it. In fact, I more represent the impatient homeschooler during times I am not letting myself be led by the Spirit. The fruits of the Spirit are love, joy, peace, forbearance, kindness, goodness, faithfulness, gentleness, and self-control. Impatience and a snapping lack of self-control are not. These things do not bring Him glory.
I faint. I am weary.
Are we supposed to faint? I don't mean physically; I mean spiritually. Isaiah 40:31 tells us, "But they that wait upon the LORD shall renew their strength; they shall mount up with wings as eagles; they shall run, and not be weary; and they shall walk, and not faint." Apparently, we're not supposed to faint dead away (or throw in the towel). We're to keep walking, but how? God's Word teaches us that if we are WAITING ON THE LORD (key word --wait), He will meet us right there in that waiting place. He will never leave us. This means impatience is out; waiting is in. The more I worry, take matters into my own hands, and wring my hands with frustration (over whatever my "issue" is at hand), the more I realize how impatient I am. This is just a hindrance to my own peace of mind, and it does not bring Him glory.
"I give up."
How many times have I silently shrugged my shoulders and muttered these words. Shameful. No, we do NOT give up. What does God's Word say? Is life supposed to be an easy street, or are there also trials to build our character and make us more like Christ? Are we to sit down in the dirt and die? Of course not. Second Corinthians 4:8 tells us, "We are troubled on every side, yet not distressed; we are perplexed, but not in despair." This is true. There will be times we are perplexed or curious over what the Lord is doing. "Why, O God?!" we cry out. There will be troubles in this world, but we're not to fear; we are not to sink into despair. He has already overcome this world, we are His, and yes, we can WAIT on Him as He will protect us and take care of us. He has given us His Word. Read it and take note of His utmost care for us--if you think you are a good parent, He's an even better one. His eye is on you all the time just like yours is on your sleeping infant. I remember holding little Chloe while she was sleeping once. She was on her back, in my arms, but only just barely asleep. Every few minutes, she'd open her sleepy little eyes and peer up at me; it seemed she was making sure I was still there, gazing down at her. When she'd look up, there I still was. I wasn't going anywhere and she could be assured of it. When you look up, there He is too. Your loving Father will never leave you. He won't leave me either, so why am I so impatient? Why do I resort to "giving up" mode when I'm frustrated? It only hinders (again) my peace. No, I won't give up, nor will I despair. His Word tells me I will not. I believe Him. And I want to bring Him glory.
I don't choose joy.
You know what the irony here is? Lukey, our now 20-year-old, was our little scowler when he was 3 years old. We were always telling him, "Lukey, choose joy." It was our way of reminding him during a given "3-year-old mad episode" that he was to be a joyful boy and not be malcontent. Our friends even came to his birthday party and in his card, wrote the words "Dear Lukey, choose joy." It was a laughing moment for all of us because that little phrase was SO commonly used with little Lukey. But here I am, someone who knows that I should walk in joy because of my very salvation, not to mention everything I have seen the Lord do in my life. But when things go wrong, I worry. I fret. I am impatient and unwilling to wait (after all, my timing is better since I'm the poor soul going through the trial, right--wouldn't I be the best judge?). But what does Habakkuk 3:17-18 say? Amazingly, it's this: "Although the fig tree shall not blossom, neither shall fruit be in the vines; the labour of the olive shall fail, and the fields shall yield no meat; the flock shall be cut off from the fold, and there shall be no herd in the stalls: Yet I will rejoice in the LORD, I will joy in the God of my salvation."
Recently on Encouragement
Have something to say about this article? Leave your comment via Facebook below!
advertise with us
Example: "Gen 1:1" "John 3" "Moses" "trust"
Advanced Search
Listen to Your Favorite Pastors