The Impatient Homeschooler
Gena Suarez, The Old Schoolhouse Magazine
Monday, November 14, 2011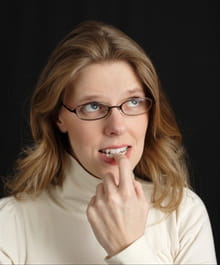 Ummm, wow. For the most part, for our family and business, the figurative "fig trees," do blossom. And "fruit" is on the vine at some point in the game, and the "olives" come (even though they're usually late). Our "fields yield meat" (so to speak), and even if it doesn't happen fast enough in MY timetable, there are eventually "herds in the stalls," not to mention the "flocks are still in the fold!" In other words, God does provide. He never lets us down. But look at Habakkuk! Even if the figs NEVER come, we are to be walking in JOY. We are to be rejoicing in the Lord because of who He is and because of what He has done. He is our Holy God, our Savior. He does take care of us, but even if we have to wait what seems like an eternity to have things work right again, or to pay some bill, or to fix a relationship, we should be content to know that He is working things out behind the scenes and just WALK with Him in joy.
Besides, what does Romans 5:3-4 say? Check this out: "And not only so, but we glory in tribulations also: knowing that tribulation worketh patience; and patience, experience; and experience, hope . . . ," and we all know that hope in Christ does not disappoint, does it? So in our trials we find patience IF we are seeking God's Word. How can I become the PATIENT homeschooler? I think I just figured it out. My afflictions are working patience in me. I have lots of experiences I can some day pass on to others; I have hope (His Word!) I can offer. I don't have to be the impatient homeschooler at all.
It's all tied together! Whether I'm nit-picking at my family, angry at myself for some goofy error, scared and anxious over my circumstances that I have no control over anyway, or simply frustrated with God's timing, it all boils down to a lack of patience on my part--an unwillingness to wait on the Lord. The fact that I refuse to wait on Him actually DEMONSTRATES impatience. How awful. I don't want to be plagued by that reality. By the way, do you know what the definition of "patience" even is? It's pretty simple and it's what God asks of us. Ready for this? Patience: willing to endure. Are we willing to endure? To endure, by the way, is to "stick it out." To survive, to subject oneself to another (in this case, to God and His plan for our lives--yes, during the burdensome AND the easier times). Not only that, but consider the spirit we have been given by God Himself. Read Romans 8:15. It's clearly stated that we have not received a spirit of slavery, which leads to fear. No! We have received the Spirit of ADOPTION. We are sons and daughters of the living God, our wise King. "Abba! Father!" is what we say, when we start to feel ourselves slipping into fear. Daddy God! That's right--He is your Parent, your Dad. And He hears. He will never leave us any more than we would abandon our own little one. We can peer up at Him like Chloe did with her earthly parent (Mommy) and find Him there, gazing back on us. We're in His arms too.
Lord, make me endure joyfully even through my sorrowful times. The righteous DO endure to the end. My heart is willing; I am resolved to bear the hardships and trials You deem necessary for my life. Build my character as I abide in You. Cause me to remember what You showed us in James 5:10--that we should look to the prophets of old who spoke Your Name as an example of patience and suffering. They abided in You because they knew You. And since You have called me (and know me), I want to endure in all things, great and small, also to the end as they did.
Today I choose peace.
Waiting on Him is pure peace and He blesses those who do it; He smiles on those who persevere (with rejoicing) through the trials He brings us. Waiting on the Lord is an act of worship and a symbol of our faith. I will choose to be joyful in all things, no matter the tribulation. When difficulties come I may cry for the moment, but immediately thereafter I must look up and press onward because there waiting for me is the very strength that the Lord Himself renews in me. (Isaiah 40: 31) I won't faint nor will I walk in weariness. I will bring Him glory.
Recently on Encouragement
Have something to say about this article? Leave your comment via Facebook below!
advertise with us
Example: "Gen 1:1" "John 3" "Moses" "trust"
Advanced Search
Listen to Your Favorite Pastors