The Nuremberg Trials...and Homeschooling?!
Michelle Miller, TruthQuest History
Monday, September 24, 2012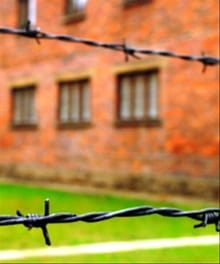 The pre-World War German schools may have looked impressive, but John Gatto says they were actually designed to inhibit deep thinking, instead implying that an abundance of academic factoids was true education.3 This was a passive education, not an active one. It promoted the culture's own values, rather than showing through every academic subject that God's truths alone free and prosper mankind. Hopefully, this is not the style of your children's education, for when the German population was asked to passively accept Hitler's cruel extremes, many did so. They were unthinking clay in the hands of the "experts."
Likewise, who has defined "family life" for us? Who said that Father and Mother and Children should be separated all day? What does the nature of all aspects of our daily lives, finances, entertainment, politics, time investments, etc., reveal about the influences we accept?
The good news is that once we—the lovers of the Lord—lock onto His truths, we hold to them relentlessly. Let's just be sure to probe His principles for parenting and education too! We cannot be Eichmann-like ourselves, even if that is human nature. We cannot passively and unthinkingly apply the same secular educational method we experienced as students. We cannot be, like Eichmann, mere "bureaucrats" in our homeschools, mindlessly enforcing the secular goals of our post-Christian culture.
You and I have a mighty purpose! We are called to raise children whose spiritual and academic education is totally God-defined and unique to each family. We have all day, every day, and every "subject" to reveal the Lord so powerfully to our kids that they can withstand the subtle authority of the culture, but we must do so first...
Michelle is a veteran homeschooler, founder/operator of a large homeschool library, columnist for a homeschooling magazine, and speaker on education/history, including interviews on Moody Radio's Prime Time America program. Her history curriculum, TruthQuest History, is one of Cathy Duffy's 100 Top Picks for Homeschool Curriculum and has won numerous awards (www.TruthQuestHistory.com). Michelle earned a B.A., summa cum laude, from the University of Alabama. She and John have four children and five cute grandsons!
Endnotes:
1. www.jewishvirtuallibrary.org/jsource/Holocaust/eichmann.html
2. www.ask.com/wiki/Hannah_Arendt?qsrc=3044
3. Gatto, John. "Confederacy of Dunces." Complete publication details of this article unknown; I was handed a photocopy that did not include citations.
Publication date: September 24, 2012
Recently on Encouragement
Have something to say about this article? Leave your comment via Facebook below!
advertise with us
Example: "Gen 1:1" "John 3" "Moses" "trust"
Advanced Search
Listen to Your Favorite Pastors