The von Trapp Traditions: Music and Homeschooling
William Anderson
Monday, July 23, 2012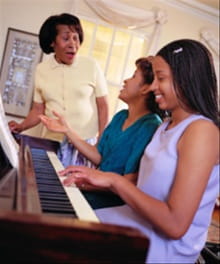 Captain von Trapp drew his family together to decide their future. Opening the Bible, he randomly settled on Genesis 12:1-9 exhorting Abraham to leave his country and go to the land that God showed. For the von Trapps, the offer of an American concert tour was God's providence: a ticket to freedom.
After a stealthy escape from Austria, the family arrived in New York. The first U.S. tour launched the Trapp Family Singers as concert favorites. Maria cleverly concealed her pregnancy from audiences with evolving costumes, and soon after the tour's end, Johannes was born, the tenth and final child.
As a tightly knit, self-sufficient family, the von Trapps sang, prayed, and worked together. Cross-country concert tours continued each season. In 1942 the family bought a farm near Stowe, Vermont, where the Green Mountains reminded them of Austria, and a spacious Austrian-style house became their American home.
During World War II, Rupert and Werner von Trapp served in the U.S. Army. Rosmarie and Eleonore joined the singing group when their brothers left, and the girls were homeschooled during tours. "Our bus was a one-room rolling school house," said their mother. When Johannes joined the group, he was similarly educated. Until he died in 1947, Captain von Trapp supported his children's education and career.
When the Trapp Family Singers disbanded in 1956, some of the children did mission work in New Guinea. In fact, daughter Maria stayed there for thirty years. Rupert became a doctor; Werner farmed. Hedwig, Agathe, and Rosmarie became schoolteachers. Johannes manages the Trapp Family Lodge, an outgrowth of the family home. Johanna had seven children. Martina died in childbirth. Eleonore had seven daughters; several of them homeschool. She and her husband are passionate supporters of home education.
When The Sound of Music debuted, it brought the von Trapps unexpected new fame. They accepted their renown with good nature but disliked the film's portrayal of their nurturing father, because the play and movie inaccurately portrayed their loving father as a stern martinet.
For Maria von Trapp, The Sound of Music created a limelight that she could never escape. She wrote books, lectured, and was a presence at the Trapp Family Lodge until her death in 1987. She interacted with guests, sharing stories of her remarkable life. "If God can do so much for the Trapp Family," she often said, "He can do the same for you."
The Von Trapp Children
The Sound of Music still captivates generations. Now in its forty-fifth year, the movie is periodically shown on the ABC Family network. The actors who portrayed the movie children reunited with Julie Andrews and Christopher Plummer on a recent Oprah show, where the current generation of singing von Trapps joined them. The Von Trapp Children—Melanie, Sophia, Justin, and Amanda, now teens—are Werner's grandchildren. They have toured the world as a singing group since 2002.
The kids started harmonizing in their Montana home. Their parents, Stefan and Annie, encouraged them. Invitations arrived to sing at church, homeschool events, and at Ground Zero, after 9/11. Their repertoire is a mix of gospel, folk, classical, and spirituals. Songs from The Sound of Music are audience pleasers. The von Trapps regularly fill large concert venues and sing with symphonies.
The children have always been homeschooled. "I cannot tell you how well homeschooling worked for us," says Annie von Trapp. "Stefan and I supported the kids' performing, and it's been a success, right along with their home education. There's a lot of uninterrupted study time on a flight to Seoul, Korea, for example!"
Recently on Encouragement
Have something to say about this article? Leave your comment via Facebook below!
advertise with us
Example: "Gen 1:1" "John 3" "Moses" "trust"
Advanced Search
Listen to Your Favorite Pastors