This Is the Way; Walk in It
Jessica Camenisch, The OldSchoolhouse Magazine
Monday, June 20, 2011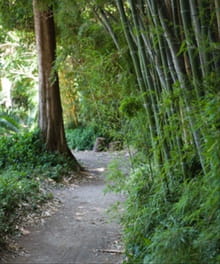 With my parents' blessing, I decided to fill out an application to attend a local college in Kentucky and apply for a scholarship. I believed if God wanted me to go to that college, I would get the scholarship. If He did not, I would not get it and would start looking for something else to do. I got the scholarship. And I went to college.
I ended up majoring in Spanish, because my heart was still drawn to Spanish-speaking people, even though my focus had shifted more from Mexico to Nicaragua. I continued to go with my dad on his annual, summer trip to Nicaragua, almost every year.
In the fall of 2006, the Petries sent out an e-mail saying they were in need of a caregiver during January '07. I was a sophomore in college at this time. I had been given a scholarship for eight consecutive semesters. But I felt like the Lord wanted me to go help the Petries again. So I wrote a letter to the scholarship office of my university, explaining what I would like to do and requesting a semester extension for my scholarship. My request was granted, and the Lord completely provided for me to go to Belgium and serve the Petries for another three months.
When I think about it, I am awestruck. I did not have the money for a trip to Europe. I was a poor, full-time college student, working part-time, about ten hours a week. My parents did not have the money to pay for my airplane ticket to Belgium. Honestly, I do not even remember how we purchased the ticket; I do remember that I did not worry about it. God had provided for all of my plane trips to Nicaragua, He had provided for my college tuition, and He had provided me with a car to drive to school. I knew that He would bring in the money I needed to go to Belgium, if that was where He wanted me. And it was where He wanted me, because that is what He did.
It was while I was in Belgium the second time that the Lord opened up an opportunity for me to study abroad in Morelia, Mexico. While I was applying to the study abroad program, I remembered that word in answer to my childhood prayers, MEXICO. I was skeptical that I would get to go. However, once again, God miraculously worked it out. I knew I could never afford the trip if my scholarship money could not be applied toward it, but the scholarship office came through again. Also, my parents and I did not think it wise to go without knowing anyone, and in response to that need, God directed a Godly friend who was also majoring in Spanish to go on the trip with me and be my roommate. Time and again, the Lord worked out all the details. More than once I pinched myself; is this really happening? Yes, it was real.
I got to go to Mexico for the fall semester of 2007, and I saw it as a mission trip. I was realizing, little by little, that "mission trips" took place every day at school and every day at home. Every time I saw someone on the sidewalk and smiled, I was being a missionary. Every time I cleaned up the kitchen for my mom, I was doing mission work.
In December of '09 I graduated from college and entered another season of transition. I asked God what work He would have me do after college. He opened up the doors for me to go back to Belgium for a third time. I was there from January through March of 2010.
It was wonderful to be in the Petrie household again, sharing life with my second family, but it had its challenges. Genval, Belgium, had become a familiar place to me, and at first I was confused by the feeling of familiarity, wondering why I was not more excited about being in Europe again. Why did I miss home so much?
I asked God what He was trying to say to me, and slowly, He began to show me my heart and the heart He had for the world, the awesome precision of His perfect plan, how He had chosen my family, my hometown, and the myriad of things that make me unique—specifically. How He had orchestrated my life up to now, on purpose. That it was according to His all-encompassing plan that I had been blessed with each experience, close to home or far away. That each place He had brought me to and through was preparing me for the next place in some way.
Recently on Encouragement
Have something to say about this article? Leave your comment via Facebook below!
advertise with us
Example: "Gen 1:1" "John 3" "Moses" "trust"
Advanced Search
Listen to Your Favorite Pastors