What Are Parents For?
Deborah Wuehler, Senior Editor of The Old Schoolhouse
Friday, July 05, 2013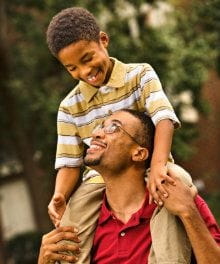 The parentalrights.org website says this about the danger of losing the freedom of parental decision making:
"Parental Rights face an ever-increasing number of threats in the United States today. Whether through unfriendly court decisions, often-abused federal laws, or over-federalization, the fundamental liberty of parents to make decisions for their child's best interest is in danger. "
Parents are losing rights on many fronts. In an article by Michael Farris of HSLDA, regarding court cases involving public education, he stated:
...According to the courts, parents' rights to control the education of their children completely stop at the schoolhouse door. What is the implication for homeschoolers? First, we should be very glad that we have decided to homeschool our children. If any parents still believe that they have a constitutional right to direct their children's education inside a public school, these cases demonstrate that such a view is a fantasy.4
Where Are We Going?
In Genesis chapter 11, Abraham's father, Terah, started on the trip to Canaan and made it to Haran before he died, but Abraham completed his father's journey. God told Abraham to leave and go to Canaan, which is the journey that Abraham's father had begun. Abraham obeyed God and taught his children after him to obey God.
Perhaps we are somehow like Terah and our kids are like Abraham in that we want our children to run the race and continue the legacy we started and end up in a place of blessing. We can teach our children that we are part of the great timeline of history: First there was Adam and Eve, then Noah, then Abraham, then David, then Jesus, and eventually, our family. Where is our family going? Hopefully, we are following Jesus with all of our heart, soul, mind, and strength.
Will our children continue the pilgrimage through this earth to the heavenly Promised Land? That is our prayer. That is the goal of our instruction. That is what we are here for. That is why we have them Home Where They Belong.
Endnotes:
1. concordances.org/hebrew/7034.htm.
2. www.hslda.org/hs/state/mi/201207090.asp, accessed July 18, 2012.
3. To learn more about this issue, visit www.hslda.org/docs/news/2012/201207130.asp and www.hslda.org/docs/news/2012/201205250.asp.
4. www.parentalrights.org/index.asp?Type=B_BASIC&SEC=%7B194D2431-8A6C-4982-8D62-DA1688E5C632%7D&DE, "Has America Abandoned Parental Rights?" by Michael P. Farris, J.D. reprinted from The Home School Court Report (Vol. XXII, No. 4).
Deborah Wuehler is the Senior Editor for TOS, participating author in The Homeschool Minute, wife to Richard, and mom to eight gifts from heaven. She loves digging for buried treasure in the Word, reading, writing, homeschooling, and dark chocolate! You may contact her at senioreditor@TheHomeschoolMagazine.com.
Copyright, 2012. Used with permission. All rights reserved by author. Originally appeared in The Old Schoolhouse® Magazine, the family education magazine, August 2012. Read the magazine free at www.TOSMagazine.com or read it on the go and download the free apps at www.TOSApps.com to read the magazine on your mobile devices.
Publication date: July 5, 2013
Recently on Encouragement
Have something to say about this article? Leave your comment via Facebook below!
advertise with us
Example: "Gen 1:1" "John 3" "Moses" "trust"
Advanced Search
Listen to Your Favorite Pastors