Who Is "That Girl?"
Heidi St. John, Home Educating Family Magazine
Monday, February 27, 2012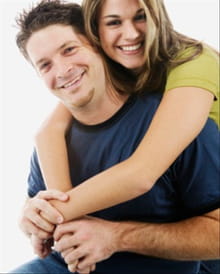 Do you remember "That Girl?" You know the girl I'm talking about: her spirit is unfet­tered, her hopes are high, her schedule is uncluttered. That Girl is a dreamer. She still flirts with her husband. She looks in the mirror and is filled with awe at the body that God has given her. She does not see stretch marks; she sees the unmistakable signs of motherhood. She does not lament over impending physical changes in her body, because she does not know that they are coming.
Sometimes I wonder whatever happened to that spontaneous, flirtatious girl that Jay wrote love songs to. Even though Jay and I have a wonderful, strong mar­riage, it is still easy for me to think of myself in the light of the grocery store checkout line magazine covers. You know, those magazine covers that tell me how I should see myself. The trouble is, magazines lie. The culture that we live in has its priorities all wrong. You need new thinking if you are going to be the woman God created you to be.
A few years ago, I began to pray specifically that God would help me be the girl that Jay married. I am not saying that I was ask­ing to be nineteen again—goodness knows I don't want to go back and re-learn some of the lessons of my twenties—but I needed to see myself with new eyes. As much as I longed to be, I knew that I was not That Girl any more. Between pastor­ing, pregnancies, newborns, homeschooling and home making, I had somehow lost sight of the girl that I was when we were first married. My husband noticed, too. Time and stress had created a certain distance between us. Most people wouldn't have noticed it because from the outside, we had it all together.
In our case, the distance showed up in many ar­eas of our marriage. Jay was at work too much, and I found myself caring less and less. We stopped leaving little notes for each other on the bathroom mirror. We kept right on going as if nothing was different. You see, that "dis­tance" I am talking about didn't happen over­night. It took me a few years of being too busy and Jay being too absorbed in his work before we started to notice.
For my husband and me, our marriage has never reached a crisis point. But like many cou­ples, we had taken our marriage for granted. Slowly, we had become so involved with other people and with raising our kids, that we had little time left over at the end of the day for each other. We had stopped dreaming together. With a full-time ministry position at a growing church and young children to raise, LIFE was in full swing.
One morning, my husband's parents offered to take our children out for breakfast, so Jay and I took the rare opportunity for uninterrupted conversation and headed to our favorite coffee shop. After a few minutes of sipping lattes and enjoying pumpkin scones, I sensed that Jay had something on his mind.
What he said surprised me.
"I miss you, Heidi. Are you in there some­where?" he asked.
"You miss me?" I did not understand what he meant, until he began to talk about things I had not thought about in what felt like for­ever: date night, weekend getaways, long drives for no reason. He missed the woman that lit candles in the bedroom and who wasn't embar­rassed by the sight of her own body. He too sensed the distance between us, and it was troubling him.
Please understand, Jay is my closest friend. He was not criticizing me: He really did miss me. He missed That Girl. Frankly, I knew exactly what he was talking about.
It's funny how certain conversations stand out as unforgettable. I remember that conversation in the coffee shop as clearly as I remember our first kiss and the day Jay proposed to me.
I think it's because that conversation forever changed the way I viewed my role in our mar­riage. Jay didn't miss me literally—I was there all the time (at least physically). He missed That Girl. When I finally stopped to think about it, I missed her too!
Recently on Encouragement
Have something to say about this article? Leave your comment via Facebook below!
advertise with us
Example: "Gen 1:1" "John 3" "Moses" "trust"
Advanced Search
Listen to Your Favorite Pastors