Who Is "That Girl?"
Heidi St. John, Home Educating Family Magazine
Monday, February 27, 2012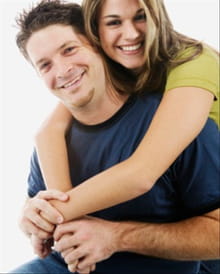 The next few weeks provided many opportuni­ties for me to think about the girl I was versus the girl I had become. I also had time to think about how quickly time was passing. Had we already been married for ten years? If the first ten went by fast, I could only imagine how fast the next ten would fly. As I write this book, it occurs to me that the next ten years are already gone; we recently celebrated our 20th anniver­sary.
The Homeschool Vortex
Somehow, I had been sucked into the home­school vortex. Do you know what I mean? It's a place where time doesn't just stand still, you ac­tually forget that time is going by! My days were all about the children, curriculum, and crock pots. From the moment my feet hit the floor, I was "all homeschool mom all the time." As I struggled to figure out how this homeschool thing looked (and I think I made every mistake a busy homeschool mom can make), I forgot to nurture That Girl! I now understand why the famous "denim jumper" became the required uniform for so many homeschool moms: that's what they're wearing in the vortex!
Now, I've met a few busy homeschool moms over the years who claim that there is no such vortex, but I have been inside it. Trust me, it's there. And if you think it's not there, you are setting yourself up to fall right in. In fact, you may be inside it and not even know it!
The homeschool vortex is tricky because most of the time, you're in it before you can say "Classical Education!" There is no time for ro­mance inside the vortex because in the vortex, Latin is more important than lingerie. Legal­ism is the official language and laughter is lost as homeschooling becomes more and more wearisome. Believe me, it's possible to be inside the vortex and not even know it.
I am forever grateful that my husband threw me a line and pulled me up out of that place. At the time, I was too exhausted to appreci­ate what my life would have looked like if I had stayed there even one more minute, but I am sure that I would never have found That Girl without the patient, loving pursuit of my husband.
Romance Redefined
In the months that followed, I did some soul searching. I realized that if I wanted to be That Girl again, I needed to recognize that my hus­band—not our homeschool—needed to be my priority. It was time to revisit our romance.
The longer I've been married, the more my idea of romance has changed. When we were dat­ing, my idea of romance was an "I love you, baby!" phone call before a test or an impromp­tu meeting under the streetlights that lit up our college campus. My beloved would leave love notes for me and I would find them in the funniest places: in my car, inside of textbooks, under my plate in the cafeteria. He went all out and I loved it!
Twenty years and six kids later, my idea of romance has changed. Jay's has too. My hus­band is as attractive to me with dish soap on his hands or a grinning little girl on his lap as he was when he sang the lead in his rock-n-roll band, Saint John, probably even more so be­cause we now have years of shared experiences that serve to strengthen our romance.
I don't know about you, but when my husband sees a need and goes out of his way to meet it, I can barely contain my love for him! His love, lived out in practical ways, is romantic. Why? Because true romance is love lived out. And real life includes dirty dishes and piles of laundry.
When I stop and think about it, the reality is that it was not the notes, the flowers, the moonlight, or the poetry that I really loved; it was the thrill of the being pursued. That was the way we lived out our love: Before dishes and diapers, there was date night.
Now, as a busy homeschool mom, the thrill of the pursuit includes ordinary things. Here's the tricky part: the homeschool vortex is a no-ro­mance zone. If you want to be That Girl again, you've got to start back at the beginning. You've got to start romancing your husband.
Recently on Encouragement
Have something to say about this article? Leave your comment via Facebook below!
advertise with us
Example: "Gen 1:1" "John 3" "Moses" "trust"
Advanced Search
Listen to Your Favorite Pastors