Evangelistic Explorer: David Livingstone
Amy Puetz, Home School Enrichment
Monday, May 02, 2005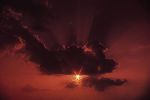 Dr. Livingstone journeyed back across the continent because he had promised the men who came to Luanda with him that he would take them home. Although he was urged to go to England for a rest, he did his duty instead, which saved his life. Sadly, the boat that would have taken him to England sank in the Atlantic Ocean with only one survivor. God was watching over him.
While traveling through the hostile country of the Chiboque tribe, Livingstone became ill with rheumatic fever, but with the Lord's help he persevered. While fording the Lotembwa River he made one of his greatest geographical discoveries. According to his journals, he discovered the divide that separated rivers flowing south from those flowing north. Next he traveled east, eventually going through present day Zimbabwe, Zambia and Mozambique. Rumors had reached him of a tremendous waterfall, and Livingstone intended to find it. What he discovered was a massive falls that was 1,800 yards wide and descended 350 feet. It was a grand sight! The natives' name for the waterfall meant smoke that thunders, but Livingstone called it Victoria Falls in honor of the Queen of England. When Livingstone reached the city of Quelimane on the east coast of Africa, he sailed for England to enjoy a much-deserved rest after all his travels.
Dr. Livingstone's last expedition began in 1865 when he left England. The source of the Nile had always fascinated him, so he set out to locate it. Since the natives said it flowed out of a large lake in central Africa, Livingstone traveled extensively in Zaire, Zambia, and Tanzania. Days turned into months and months into years, and the outside world began to wonder if Livingstone was still alive. Newspaperman Henry Morton Stanley was given the assignment of finding Livingstone. For two years Stanley searched for the lost missionary-explorer. Finally, on October 28, 1871, Stanley found Livingstone at Ujiji, on the banks of Lake Tanganyika. He greeted him with the now famous words, "Dr. Livingstone, I presume?" Although Livingstone continued to explore he did not have many more years to live. He died on May 4, 1873. His devoted friends buried his heart in Africa and embalmed his body, then they carried his remains to the coast and Livingstone found his final rest at Westminster Abbey. His last journey had ended.
Dr. David Livingstone was a heroic man. When thinking of explorers in Africa, Dr. Livingstone inevitably comes to mind. During his life he traveled 29,000 miles in Africa, and most significantly he unlocked one million square miles to the rest of the world. His drive for discovery opened up many trails into the continent, which were used by missionaries. Although he did not find the source of the Nile River, his contribution to the knowledge of Africa's geography is astounding. He also did many worthy things in the capacity of a missionary. He was an amazing explorer and an excellent evangelist.
Study Questions & Follow up Research
• Locate these places on an African map: Lake Ngami, Luanda, Victoria Falls, Quelimane, Nile River, Lake Tanganyika, Ujiji.
• Spreading the gospel was Livingstone's main goal in life. Missionary work is still continuing in Africa. Do you know a missionary in Africa? Study about the country where they live. After you have done a little research about their country, send them a note of encouragement. (If you do not know a missionary in Africa, choose one African country to study.)
• Study about the continent of Africa in an encyclopedia. Answer the following questions: How many square miles are in Africa? What are the main geographical features of Africa? Where is the highest point? Name some animals that are native to Africa. What is the largest lake? What is the longest river?
• Read the book David Livingstone a Man of Prayer and Action by C. Silvester Horne, M.P., a good book about the life and work of Livingstone.
• Find some pictures of Victoria Falls either in an encyclopedia or a geography book. It truly is a magnificent sight.


Amy Puetz, a homeschool graduate, loves history, sewing, and working as a computer graphic artist for her company A to Z Designs. She is also the author of the exciting book Costumes with Character. Visit her website at  a2zdesigns.vcn.com. Call 1-307-464-0266 to request a free catalog. She makes her home in Wright, Wyoming.

This article was originally published in the Mar/Apr '05 issue of Home School Enrichment Magazine. For more information, visit http://HomeSchoolEnrichment.com


Have something to say about this article? Leave your comment via Facebook below!
advertise with us
Example: "Gen 1:1" "John 3" "Moses" "trust"
Advanced Search
Listen to Your Favorite Pastors