Famous Last (Homeschool) Words
Deborah Wuehler, Senior Editor of The Old Schoolhouse
Thursday, April 26, 2012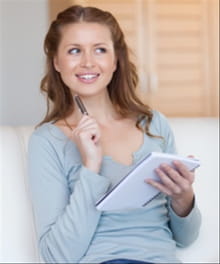 He made him to be sin for us, who knew no sin; that we might be made the righteousness of God in him (2 Corinthians 5:21).
... And be found in him, not having mine own righteousness, which is of the law, but that which is through the faith of Christ, the righteousness which is of God by faith (Philippians 3:9). Ah, and here is the crux of the matter:we have no goodness, but He is abundant in goodness (Exodus 34:6). His great goodness covers my great earthiness. His highly exalted righteousness covers my base and lowly nature. His divine nature gives me everything I need for life and goodness through the knowledge of His Son and His Word. So, we can rest in the fact that if Jesus Christ is in us, and His Word dwells in us, then God the Father will look at us and declare that famous last word — good — over us and our lives.
Famous Last Word: FAITHFUL
I am unfaithful, faithless, and faith-challenged. I often live in the opposite of faith: fear. I fear the outcome of the teaching of my students, I fear the lack of strength to do a good job, and I fear the words and judgment of others. I fear myself and the bad example that I am setting. I fear that I am not faithful or good enough. How can I get from this fearful place to the place of faithfulness so that I can hear God apply that description to me? Once again, that faithful word applies to our faithful God, and then through God to me. I can never reach the pinnacle of faithfulness, but He already has:
Know therefore that the LORD thy God, he is God, the faithful God, which keepeth covenant and mercy with them that love him and keep his commandments to a thousand generations (Deuteronomy 7:9).
God is faithful, by whom ye were called unto the fellowship of his Son Jesus Christ our Lord (1 Corinthians 1:9).
If we confess our sins, he is faithful and just to forgive us our sins, and to cleanse us from all unrighteousness (1 John 1:9).
But the Lord is faithful, who shall establish you, and keep you from evil (2 Thessalonians 3:3).
God's faithfulness provides us mercy, calls us into fellowship with His Son, forgives us, establishes us, and keeps us from evil. When I understand His faithfulness, then I begin to understand how to be a faithful servant — a servant who is full of mercy, fellowship, forgiveness, stability, and free from evil — just like Him.
Famous Last Word: SERVANT
To really understand what kind of servant God is looking for, we must look at Jesus:
Let this mind be in you, which was also in Christ Jesus: Who, being in the form of God, thought it not robbery to be equal with God: But made himself of no reputation, and took upon him the form of a servant, and was made in the likeness of men: And being found in fashion as a man, he humbled himself, and became obedient unto death, even the death of the cross (Philippians 2:5–8).
Christ took on the form of a servant, as one commentary states, "... without rights, willing to be treated as the will of the Father and the malice of men might decree, if only He might thereby serve men and bring them back to God. And you and I are to be the bond-servants of Him ... whose disposition is ever that of humility and whose activity is ever that of humbling Himself to serve His creatures. How utterly low, then, is our true position!
How this shows us what it means to be ruled by the Lord Jesus!"1 Here we must say with the Psalmist: "O Lord, truly I am thy servant; I am thy servant, and the son of thine handmaid: thou hast loosed my bonds" (Psalm 116:16).
To be a servant like Jesus, we must serve by being poured out to serve others. A servant doesn't grumble about what she is asked to do, because it is her job to do as her Master bids. We must serve others willingly, for it is the Lord Christ we serve. And in case we forget what servanthood looks like, we need only look at Jesus' poured out life.
Have something to say about this article? Leave your comment via Facebook below!
advertise with us
Example: "Gen 1:1" "John 3" "Moses" "trust"
Advanced Search
Listen to Your Favorite Pastors