Famous Last (Homeschool) Words
Deborah Wuehler, Senior Editor of The Old Schoolhouse
Thursday, April 26, 2012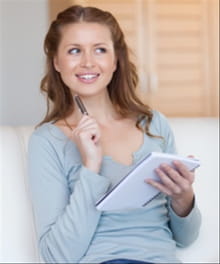 We must serve the Lord by teaching our children truth and by fighting against sin, mediocrity, worldly standards, and anti-God philosophies. His goodness and faithfulness will make us good and faithful as we serve Him and instruct our children to do the same. God calls us good, His Spirit makes us faithful, and Jesus shows us what servanthood looks like.
Jesus' Last Words
When I have to leave the house on an errand, I go to each child and give last words to each one. I give clear direction, caution, and guidance for the time I will be gone. I need to know they heard me, that they understood my commands and are able to do what I asked. Most of all, I need to let them know I love them. In my book, these are important last words. They convey my heart and my commands. In the same manner, Jesus' last words conveyed His love and His commands, which He wanted us to pay close attention to.
Jesus' recorded last words were in the form of a prayer to His Father in John 17. These words are what he wanted to figuratively hold the faces and hold the attention of His disciples before He left this earth. The passage makes it clear that His main goal was to show them the Father. (Note to self: my main goal should be to show my kids the Father.) Jesus wanted to show His followers that God's love for them was equal to the excessive and immeasurable love He has for His own Son. (Note to self: I want to show my children that immeasurable Father love by the ways that I serve and respond to them, by the way I love their father, and by the way I serve others in humility.) Jesus wanted God's love to be in us and "I in them" — His divinity taking up residence within our humanity, His very nature within our natural selves. When we finally get a vision of Who dwells within us, we will finally have a passion to allow Him to live out His life and His Word through His dwelling.
May God grant us the determination to stay on course, to keep the vision, to not stray from the path set before us, and to stop looking for rest from service on this side but to keep serving and fighting the good fight of faith until we reach the other side. Good ... faithful ... servant. ­These are the things that are pleasing to God; Jesus is pleasing to God because He embodies those things. God said this about His Son: "­This is my beloved Son, in whom I am well pleased" (Matthew 3:17). To please God is to be a good, faithful servant like His Son.
Famous Last (Homeschool) Words
Matthew 25 contains several passages about the kingdom of heaven. One of them includes these words: "The kingdom of heaven ... will be like a man going on a journey, who called his servants and entrusted to them his property..." (Matthew 25:1, 14, ESV). These are the same servants He calls good and faithful. Let's look at our lives and see what has been entrusted to us as the property of God. We won't have to look far to see that we have been entrusted with the lives of His property: our children. How will we raise that which is the property of God? Will we raise them to bring forth fruit for their Master or for themselves? Will they multiply His kingdom or just be good at multiplication? I believe they are entrusted to us that they might learn to be good and faithful servants of God just as we are called to be.
Why are we homeschooling? What's the big deal? Here's the deal: God wants the hearts of your children and their children, and He has a bigger purpose for the next generations than we do for their math test tomorrow. We must think in eternal terms as we live out these non-eternal days. We must think not only about what our own tombstones should say but also about what God wants to write on the hearts of His children and ours.
As good, faithful servants of God, we should no longer be caught up in the petty frustrations of the day; rather, we must be wrapped up in the grand design and purpose of God. After all, only God can take an unfaithful, impatient, unkind, judgmental, and scattered woman and write "good and faithful servant" on her heart and life.
Have something to say about this article? Leave your comment via Facebook below!
advertise with us
Example: "Gen 1:1" "John 3" "Moses" "trust"
Advanced Search
Listen to Your Favorite Pastors