Free to Learn: The High School Years of a Home Schooler
Rachel Kresina, The Old Schoolhouse Magazine
Friday, December 09, 2011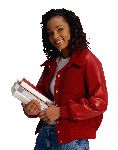 As I entered my final years of high school, my learning became less structured but remained quite as profitable. I began to devote greater time to acquiring useful skills, often listening to an audio book if the project allowed. Thus, I've been able to explore numerous areas of history, listen to great literary classics, and enjoy the biographies of remarkable men, all while expanding my practical skills.

Discovering My Gifts
One of the best things our parents did was encourage a love of books. When we were very young, Mom utilized every vacant moment to read to us—even during some meals or rides in the car. Our literary diet included books about history and science, as well as such classics as Little House on the Prairie, Anne of Green Gables, and works by Louisa May Alcott, Charles Dickens, and Shakespeare.
This exposure to excellent writing has, I believe, been a major factor in my love of writing—a love which, for quite a while, was very much dormant! When I was young, I hated writing—many of the editing sessions Mom and I spent on my papers ended in tears and frustration! Fortunately, although Mom did make sure I learned grammar and writing principles and produced a small number of writing projects, she wisely did not burden me with lots of writing.
The breakthrough for me came at about age nine, when Mom asked me to write a report for a thrilling book about Annie Oakley, the renowned sharpshooter. Somehow this piece had come out well, as opposed to my previous works. I was thrilled by Mom's abundant praise. We made a special cover for it, and my magnum opus was complete! Shortly thereafter, I wrote another book review for a biography of Thomas Edison, with similar results! Thus, a flexible approach won the day, and I began to really enjoy writing. As I began to put more effort and enthusiasm into it, my work improved. Since then, writing has actually been one of my favorite subjects! Since the end of 2001, I have been co-editing a magazine for Christian young ladies, Apples of Gold, for which we write articles dealing with Christ-centered living and practical skills. I have learned so much through that project and have met numerous girls around the world! Recently, we made the difficult decision to conclude the publication of the magazine as we move on to other activities, but I believe it was one of the best things I have participated in so far!

My Future After Home School
People often ask, "So what are you going to do after high school?" I have to answer truthfully, "I'm not sure just yet." While I pray more about it and explore different possibilities, I'm enjoying being able to continue my studies. Part of the beauty of flexibility is that there are many options available; as long as a firm foundation of education is established, the student is capable of success in many areas. Regardless of a person's educational background, he is sure to meet problems to which he doesn't know the answers. The important thing is to have discovered how to learn and to have a love of learning which will enable you take on life's challenges.
This, along with healthy relationships and wonderful educational opportunities, has been given to me through homeschooling. And yet homeschooling alone does not automatically produce a well-equipped young person. Many elements are involved, but in the end they really condense into one entity: the grace of God. "For from Him and through Him and to Him are all things. To Him be the glory forever. Amen." —Romans 11:36
**First published on March 19, 2006.
---
Rachel Kresina lives in Connecticut. She enjoy reading, writing, (not 'rithmatic!), gardening, animals, hard physical work, playing the piano, and ping-pong matches with her brother. She can be reached at awordfitlyspoken@yahoo.com.
Copyright 2006. Used with permission. Originally appeared in Winter 2006 The Old Schoolhouse Magazine. www.TheHomeschoolMagazine.com
Have something to say about this article? Leave your comment via Facebook below!
advertise with us
Example: "Gen 1:1" "John 3" "Moses" "trust"
Advanced Search
Listen to Your Favorite Pastors