How to Successfully Start a Homeschool Theater Group
Amy Young Miller, Educator
Friday, February 08, 2013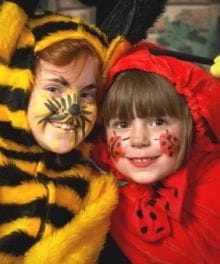 My eyes widened in astonishment when I heard, coming from the dark and crowded auditorium, waves of hearty laughter. The crowd was laughing at the play that had long ago lost its humor to my husband Bryan and me. They were laughing hard.
Mystified, I looked across at my husband, and our eyes met. He looked as perplexed as I was. How had this happened? The kids on stage, our fledgling drama students, had started out awkward and uncomfortable during rehearsals. But after three months of encouragement and careful direction, they had gained self-confidence and sparkle, and now, in front of an audience, had blossomed into creative performers. They were, simply put, a delight to watch. They were having a blast, and it showed. I shouldn't have been surprised, of course. I had laid out my fleece.
To be brutally honest, the entire theater idea was borne out of a selfish desire to provide a theater experience for our own children after a job-related move left us lonely in a new community. We had left behind a beloved theater group run by talented homeschool moms. I had an idea, and I mustered up the confidence to mention to my husband that maybe we should lay out a fleece, Gideon-style. Gideon had laid out his fleece and asked God to give him a sign; I had an idea about how we could use his methods.
"How hard can it be? We find a script, we rehearse, and then we put on one little show. It wouldn't be that difficult, would it?" I asked Bryan, in my wheedlingest voice. He was working long hours in a new job, so I knew that much of the work starting a theater group would fall on the shoulders of our five children and me. Well, mostly me.
"It would be a lot of work," he said, tiredly.
"But—fun work, right? Satisfying work?"
"Fun work?'" he snorted, looking at me as if I had just sprouted horns. But he knew how our children were missing their friends. He gave me the go-ahead, though he questioned why homeschool parents in the area would entrust us—strangers and not exactly qualified to direct theater (as far as they knew!)—with their children. But we decided to give it a try.
I called the homeschool mom I had met, and she sent out an e-mail. It was the first week of January.
We decided that if God, within a week, sent us ten homeschooled students who were interested in doing a play with us, we'd...well, figure out what to do next. It did seem unlikely—it was the middle of the school year, and families were certainly already enmeshed in their activities for this school year. Maybe Bryan was right, and the fleece would come up dry.
But it didn't. God provided a very clear answer. Before the week was out, we had fifteen enthusiastic homeschool students signed up to participate in the brand-new homeschool theater group! I was delighted but a little scared. Okay, that's an understatement. I was petrified. I didn't have the luxury that Gideon had: to test God a second or third time. I knew I was stuck with the frightening prospect of directing these children in my first—and their first—theater experience. What had I been thinking? Bryan and I had participated in theater in high school and college, and we did have a nutty predilection for all things theater-related, but we had absolutely no experience in producing and directing a play.
It's true that we were naïve in that we didn't realize how this new adventure would eventually take over our lives, although in a good way (mostly!). We also had no idea how much fun we were going to have. We were unwittingly climbing into a roller coaster, one cluttered with half-used pots of stage make-up and old velvet costumes held together by safety pins and ancient ratty wigs and strange bits and pieces of furniture and old junk, and it was going to scream up and down, and we would cover our eyes at times, shrieking and hollering...with joy, fear, and quite often, delight.
Recently on Getting Started
Have something to say about this article? Leave your comment via Facebook below!
advertise with us
Example: "Gen 1:1" "John 3" "Moses" "trust"
Advanced Search
Listen to Your Favorite Pastors