Making a Home Management Binder You Will Really Use
Malia Russell, homemaking911.com
Tuesday, July 30, 2013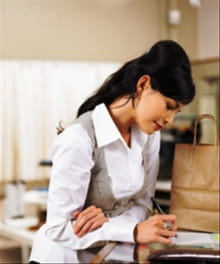 Often I am better at making up systems and charts and lists than I am at actually using them. I will sometimes see someone else's system, see its merits, and then try to recreate for myself. A couple of weeks later, it has failed to meet my needs and it is cast aside. The hours spent making the system are wasted, and I walk by, sending a guilty glance its way.
So how can you avoid spending hours creating a new system, only to see it cast aside in a few weeks?
Your home management binder should be a very useful tool for you; therefore, start with information you use all the time and put it in one easy-to-access place. Here are some examples:
Phone numbers that you or the family uses frequently (I actually print out our entire list from Outlook.)
Sports schedules
Club or co-op schedules
Directions to places you go frequently (but can't easily recall)
Babysitter instructions
Copy of the month's calendar
Addresses and directions to any activities in case a different parent or grandparent is taking the children to activities
Birthday list for your extended family
Extra copies of your grocery shopping list (keep an active one on the refrigerator so that others can add needed items to the list)
Frequently used recipes—laminated or filed in plastic sheet protectors to keep them neat while cooking
Once you have started putting all this frequently needed information/items in there, you may want to use some nice tabs to keep the binder organized. Your tabs might include these: addresses, chore charts, shopping forms, calendars, reference sheets.
To make it even more useful, add a zippered pocket to the front in which you can keep a pencil, pen, and some sticky notes. If you have some stamps and a couple of envelopes, add those too. Since we pay most of our bills electronically, I am not usually in possession of these when I need them, so having a couple on hand is nice.
Next, think of ways to make your home management binder pull extra duty for you. My older homeschoolers have checklists for their schoolwork, which I created with the TOS Schoolhouse Planner. I can print out a dozen or so at a time and keep them in the binder for them to retrieve as needed. When they get low in quantity, I just print out more. This works better than handing the children several sheets at once, because inevitably, they will get wrinkled and misplaced.
Finally, think about it as an emergency binder. If something stressful happens you will be glad to have the following information in your binder:
Approved sitters and their phone numbers—This is important. If any of your babysitters need help finding something or need to ask you a basic question and cannot reach you, it is likely that another approved sitter would know the answer.
Directions to your house from major streets/highways
Your home address and phone number
Emergency medical release forms for each child
Instructions for each child: bedtime, medications, food allergies, preferences
Name, phone number, and address of nearby neighbors
I also have my family work broken down into days:
Laundry Day
Errand /Town Day
Office Day
Kitchen Day
For each of these days I have taken the time to type up a complete list of all the possible duties for that day. I do not expect to accomplish all of the tasks on the entire list, but I go through the list briefly in the morning and pray about my day. Then I identify the top three things I need to do that day. If I complete those, then I tackle three more. In this way, those occasional chores are not forgotten, and often I finish several things on the list before the children are out of bed. This offers a sense of direction to my day, even though each day does not look exactly like the others.
Recently on Getting Started
Have something to say about this article? Leave your comment via Facebook below!
advertise with us
Example: "Gen 1:1" "John 3" "Moses" "trust"
Advanced Search
Listen to Your Favorite Pastors