Public, Private, or Home Education...What Are My Options?
Deborah Wuehler, Senior Editor of The Old Schoolhouse
Friday, March 15, 2013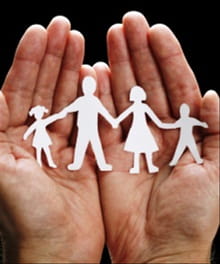 Hear, O Israel: The LORD our God is one LORD: And thou shalt love the LORD thy God with all thine heart, and with all thy soul, and with all thy might. And these words, which I command thee this day, shall be in thine heart: And thou shalt teach them diligently unto thy children, and shalt talk of them when thou sittest in thine house, and when thou walkest by the way, and when thou liest down, and when thou risest up" (Deuteronomy 6:4-7). (Deuteronomy 28 talks about the blessings of those who obey God's commands.)
Be ye not unequally yoked together with unbelievers: for what fellowship hath righteousness with unrighteousness? and what communion hath light with darkness? And what concord hath Christ with Belial? or what part hath he that believeth with an infidel? Wherefore come out from among them, and be ye separate, saith the Lord, and touch not the unclean thing; and I will receive you" (2 Corinthians 6:14-17).
Hear ye the word which the LORD speaketh unto you, O house of Israel: Thus saith the LORD, Learn not the way of the heathen..." (Jeremiah 10:1-2).
The disciple is not above his master: but every one that is perfect shall be as his master" (Luke 6:40). The Luke 6:40 of the Bible's translation of this verse helps clarify its meaning: "A disciple is not above his teacher, but everyone when he is fully trained will be like his teacher."
Train up a child in the way he should go: and when he is old, he will not depart from it" (Proverbs 22:6).
He that walketh with wise men shall be wise: but a companion of fools shall be destroyed (Proverbs 13:20).
If you are looking for good Biblical reasons for why you should consider home education for your children, here is a free online class called "Why Homeschool?" (scroll down to the second class session offered by Deborah Wuehler).
ACADEMICS
Academics play the next big role in decision-making. Parents usually want to know which school has the best teachers, which has the best curriculum, and what school ranks the highest in academic progress. Let's look at the options:
Public School
The overall academic report card for public schools in the United States could easily read as follows: "Needs improvement." As of 2009, in rankings among all other countries, sixteen countries are ranked higher than the U.S. in the areas of reading, math and science. Failing grades of U.S. public school students has been the bane and blight of the country for decades. There seems to be no way to resolve this issue at the government or state level, though many remedies have been tried over the years.
Private School
The academic scores of private schools (not to be confused with private homeschools) weigh in above the public norm. Although this option appears to be more benign, the overall results comparing private to public schooling might not be. The PISA (Programme for International Student Assessment) pamphlet titled "Private Schools: Who Benefits?" states:
Recently on Getting Started
Have something to say about this article? Leave your comment via Facebook below!
advertise with us
Example: "Gen 1:1" "John 3" "Moses" "trust"
Advanced Search
Listen to Your Favorite Pastors