Public, Private, or Home Education...What Are My Options?
Deborah Wuehler, Senior Editor of The Old Schoolhouse
Friday, March 15, 2013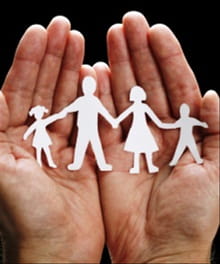 Some private schools may offer Christian values, but the environment in which they are taught is usually isolated to same-age peer groups with strong social peer pressure, teachers who are esteemed more highly than parents, and as we have seen, sometimes an environment in which a child feels unsafe. Placing a child in this kind of environment means not only taking a risk but also taking a child away from the security of home, the love of parents and the friendship of siblings, and the real-time history of relationships with extended family.
Homeschool
The homeschool environment can be free from worldly pressures and vain philosophies. This environment can grow children who are nurtured and who bloom academically, socially, and civically. God's presence is alive and well in our homes, and we can talk about Him and His ways when we rise, when we walk, when we sit, and when we lie down. The homeschool environment offers children time to think, create, try new things, and discover who God has made them to be.
CONCLUSION
Although the academic (and social) outcome of the care of children by public institutions has repeatedly fallen below standard, Christian and non-Christian parents alike overwhelmingly continue to place children in this setting. It's time not only to consider our options but also to consider our convictions.
If these are God's children, we should be raising them with His instructions, as outlined in the Bible. This 24/7 discipleship program of children, carried out by their own parents, is exactly what the Master Teacher ordered, and we would do well to obey. Our children will be rewarded for our obedience to God's commands. We should be considering all things with prayer and supplication as we ask God for His guidance. Our children are really His children; let's choose what He would choose—the best option, and keep them Home Where They Belong.
Deborah Wuehler is the Senior Editor for TOS, participating author in The Homeschool Minute, wife to Richard, and mom to eight gifts from heaven. She loves digging for buried treasure in the Word, reading, writing, homeschooling, and dark chocolate! You may contact her at SeniorEditor@TheHomeschoolMagazine.com.
Endnotes:
1. answers.ed.gov/app/answers/detail/a_id/77/session/L3RpbWUvMTMzOTM5MjA0OC9zaWQvaFA4ZDFuLWs%3D, accessed July 10, 2012.
2. www2.ed.gov/admins/comm/choice/regprivschl/index.html, accessed July 18, 2012.
3. www.pisa.oecd.org/dataoecd/6/43/48482894.pdf (page 4), PISA in Focus 2011/7 (August), © OECD 2011.
4. www.exodusmandate.org/art_christian-education-resolution-sbc.htm, accessed July 18, 2012.
5. Figure 1. Percentage of students aged 12 through 18 who reported unfavorable school conditions, by reports of criminal victimization at school: School year 2008–09, nces.ed.gov/pubs2012/2012314.pdf, accessed July 18, 2012.
6. "Results From the 2009 School Crime Supplement to the National Crime Victimization Survey," page 9. Source: U.S. Department of Justice, Bureau of Justice Statistics, School Crime Supplement (SCS) to the National Crime Victimization Survey (NCVS), 2009. nces.ed.gov/pubs2012/2012314.pdf, accessed July 18, 2012.
7. nces.ed.gov/programs/crimeindicators/crimeindicators2011/key.asp, accessed July 18, 2012.
8. www.johntaylorgatto.com/historytour/history9.htm, accessed July 18, 2012.
Copyright 2012, used with permission. All rights reserved by author. Originally appeared in the July 2012 issue of The Old Schoolhouse® Magazine, the trade magazine for homeschool families. Read the magazine free at www.TOSMagazine.com or read it on the go and download the free apps at www.TOSApps.com to read the magazine on your mobile devices.
Publication date: March 15, 2013
Recently on Getting Started
Have something to say about this article? Leave your comment via Facebook below!
advertise with us
Example: "Gen 1:1" "John 3" "Moses" "trust"
Advanced Search
Listen to Your Favorite Pastors