Sticky Hands to Writing Hands: Enhancing Handwriting Skills From Infancy
Delia Poythress, Occupational Therapist, OTR/L
Friday, July 20, 2012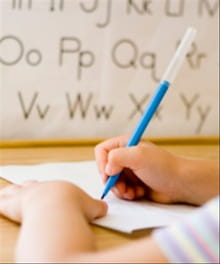 The progression to cursive handwriting also requires demonstration and consistency. A key difference is that the connections between letters need to be emphasized as well, for that is what sets cursive apart from print. Regular review until cursive handwriting becomes automatic is also necessary if you want your child to use it every day without it detracting from the effort required for the main purpose of written assignments. Be sure to think through the decision regarding when to start teaching your child cursive as well. Recent research suggests that teaching children to write in slanted manuscript, such as D'Nealian, while learning to read has led to confusion for some children.5 I have been informed by some parents of the same confusion when the child has been taught to write in cursive first.
Conclusion
Even though my baby did not like "tummy time" or pursue it on her own through her play as she grew, we were able to integrate appropriate, fun activities that enhanced her fine-motor and visual-motor development. Handwriting is now a very automatic skill for her, it is legible, and she enjoys it. With some God-given patience, a structured handwriting curriculum that included consistent demonstration, and a lot of fun fine-motor and visual-motor activities, enhancing handwriting skills, to her, was nothing more than child's play!
Ten Tips for Excellent Handwriting
1. Feet flat on the floor—Use a footstool if necessary to keep feet flat, not "dangling" or wrapped around chair legs.
2. Choose the right chair—Hips and knees should be at 90 degrees for proper body alignment.
3. Proper table height—Table height of one inch above the child's flexed elbow decreases fatigue.
4. Warm up the hands before writing—Use play dough or small toys to warm up muscles.
5. Alternate writing positions—Writing on a vertical surface or while lying on stomach (prone position) are two alternate options.
6. Choose the right tool—A well-sharpened pencil really does contribute to overall neatness!
7. Avoid "self-teaching"—Resist the temptation to give your student a worksheet and letting him "self-teach."
8. Use a developmentally based curriculum, such as Handwriting Without Tears—Teach capitals first (for printing) and group letters by formation patterns to set your child up for success!
9. Consistent demonstration—Always demonstrate the formation of the letters for your child the same way every time.
10. Practice only five minutes per day—Limit formal handwriting instruction to ten minutes per day and formal practice to five minutes per day. Completing daily, small amounts of handwriting will result in better handwriting habits and less struggle and will help teacher and student enjoy a healthy handwriting relationship!
Delia Poythress, an occupational therapist, is wife to Bryan and a homeschooling mom to three blessings. She enjoys encouraging other moms who are following God's call to homeschool by speaking on topics such as handwriting, learning styles, and fun ways to increase attention during learning tasks. Be encouraged as you visit her website at www.biblebasedbasics.com.
Sources:
1. Olsen, Jan Z. and Emily F. Knapton, (2008). Handwriting Without Tears Kindergarten Teacher's Guide. Cabin John, Maryland: Handwriting Without Tears.
2. Gesell, Arnold and others. The First Years of Life. New York: Harper and Row. 1940.
3. Six Questions Educators Should Ask Before Choosing a Handwriting Program, ERIC Digest, ERIC Development Team, 1997 http://eric.ed.gov/PDFS/ED409589.pdf, accessed October 19, 2010.
Publication date: July 20, 2012
Recently on Getting Started
Have something to say about this article? Leave your comment via Facebook below!
advertise with us
Example: "Gen 1:1" "John 3" "Moses" "trust"
Advanced Search
Listen to Your Favorite Pastors